Constructing China's Jerusalem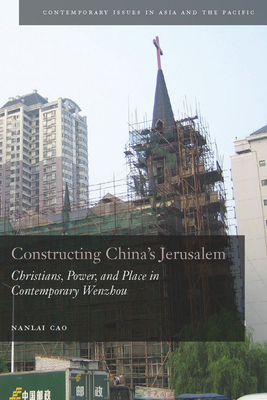 Constructing China's Jerusalem
Christians, Power, and Place in Contemporary Wenzhou
Stanford University Press, Hardcover, 9780804770804, 216pp.
Publication Date: November 4, 2010
* Individual store prices may vary.
Buy at Local Store
Enter your zip code below to purchase from an indie close to you.
or
Not Currently Available for Direct Purchase
Description
Drawing on extensive ethnographic fieldwork and in-depth life history interviews, this illuminating book provides an intimate portrait of contemporary Chinese Christianity in the context of a modern, commercialized economy. In vivid detail, anthropologist Nanlai Cao explores the massive resurgence of Protestant Christianity in the southeastern coastal city of Wenzhoupopularly referred to by its residents as "China's Jerusalem"a nationwide model for economic development and the largest urban Christian center in China.
Cao's study of Chinese Christians delves into the dynamics of activities such as banqueting, network building, property acquisition, mate selection, marriage ritual, migrant work, and education. Unlike previous research that has mainly looked at older, rural, and socially marginalized church communities, Cao trains his focus on economically powerful, politically connected, moralizing Christian entrepreneurs. In framing the city of Wenzhou as China's Jerusalem, newly rich Chinese Christians seek not only to express their leadership aspirations in a global religious movement but also to assert their place, identity, and elite status in post-reform Chinese society.

About the Author
Nanlai Cao is a research assistant professor at the Hong Kong Institute for the Humanities and Social Sciences, University of Hong Kong.
Praise For Constructing China's Jerusalem…
"In Constructing China's Jerusalem, Nanlai Cao provides one of the best thickly descriptive studies of Christianity's emerging role in contemporary Chinese society . . . Cao makes an important contribution to the study of Christianity in China specifically and religion in China more broadly. Additionally, his discussion of Christian identity as a symbolic resource would seem to have interesting implications for similar studies on either religion in emerging economies or the symbolic uses of religion in modern society."—Cole Carnesecca, Sociology of Religion

"An anthropologist, Cao shows how the Christian faith works in one population center of China: Wenzhou, the huge commercial metropolis that has been called China's Jerusalem . . . [A] beautifully textured study."—Christian Century"Cao's work effectively shatters the 'foreign' face of Christianity and presents a religion that is highly indigenized, depoliticized and highly interpenetrated with capitalist economic behavior. . . Cao's work is extremely well-written and clearly presented. I highly recommend it to anyone who is interested in contemporary religions in China, China studies, and the anthropology of Christianity in General."—Wu Keping, Asian Anthropology

"Cao excels in describing the structural features of local church and economic life: its interlacing networks, the financial support flowing from patrons to local clergy, and the business-style operations of evangelism in the city. . . . This is an excellent, informative case study, with many insights not seen elsewhere and rich with possibilities for future research."—Chloë Starr, The China Quarterly

"As yet, [Constructing China's Jerusalem] is the most comprehensive account of the complex dynamics characterising everyday life in Chinese Protestant house churches."—Marie-Eve Reny, China Perspectives

"[Cao's] book happily is not another narrative of Christian revival in China, but research by a social-scientist. It is a research too rare, yet stimulating enough for an understanding of the process of new "makings" in Chinese society."—Thaddée Henry, Chinese Cross Currents