Life Behind the Lobby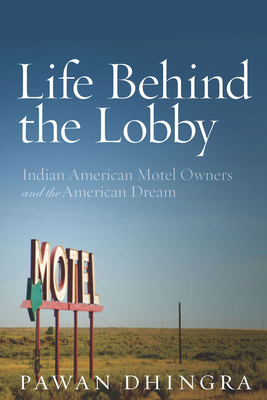 Life Behind the Lobby
Indian American Motel Owners and the American Dream
Stanford University Press, Paperback, 9780804778831, 254pp.
Publication Date: April 25, 2012
* Individual store prices may vary.
Buy at Local Store
Enter your zip code below to purchase from an indie close to you.
or
Not Currently Available for Direct Purchase
Description
Indian Americans own about half of all the motels in the United States. Even more remarkable, most of these motel owners come from the same region in India andalthough they are not all relatedseventy percent of them share the surname of Patel. Most of these motel owners arrived in the United States with few resources and, broadly speaking, they are self-employed, self-sufficient immigrants who have become successfulthey live the American dream.
However, framing this group as embodying the American dream has profound implications. It perpetuates the idea of American exceptionalismthat this nation creates opportunities for newcomers unattainable elsewhereand also downplays the inequalities of race, gender, culture, and globalization immigrants continue to face. Despite their dominance in the motel industry, Indian American moteliers are concentrated in lower- and mid-budget markets. "Life Behind the Lobby" explains Indian Americans' simultaneous accomplishments and marginalization and takes a close look at their own role in sustaining that duality.
About the Author
Pawan Dhingra is Associate Professor of Sociology at Oberlin College and Museum Curator (2011-2012) at the Smithsonian Institution.
Praise For Life Behind the Lobby…
"Dhingra conducted more than 100 interviews with motel owners, observing their families at work, over a period of several years to research in detail the grand story of entrepreneurship, the American dream and exceptionalism. The question he poses: Are the achievements of motel owners' proof of acceptance and openness of an American society or are their battles with race or culture evidence that discrimination and inequity continue to exist?"—Nitish Rele, Khaas Baat

"A strength of this book is its focus on the Indian state of Gujarat, the home of the Patels, because most research on immigrants ignores regional differences. . . Recommended."—J. Hein, CHOICE

"Pawan Dhingra has written a pioneering book on the world of American motels and hotels. Close attention to the stories told by the people who work in the trade allows Dhingra to go behind the stereotypes, and give us a tale of human beings struggling to make livings and lives. This is a people's sociology of hotel work."—Vijay Prashad, Trinity College

"Life Behind the Lobby assesses a central debate about U.S. migration: should the achievements of self-employed migrants be regarded as evidence of the openness, tolerance, and meritocracy of an increasingly neoliberal American society, or should their sacrifices, confrontations with racism, and feelings of social marginalization be taken as proof of the enduring place of discrimination, inequality, and white privilege? Pawan Dhingra's sophisticated and highly original analysis does much to advance our understanding of international migration, ethnic entrepreneurship, and migrants' ability to work collectively to cope with, if not fully overcome, the circumstances they face."—Steven J. Gold, Michigan State University, author of The Store in the Hood: A Century of Business and Conflict (2010)