L Is for Lawless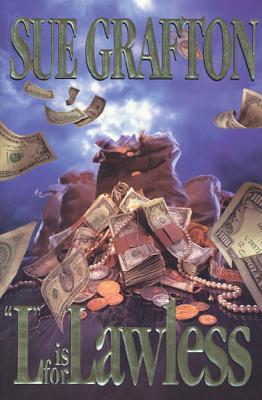 L Is for Lawless
Henry Holt & Company, Hardcover, 9780805019377, 304pp.
Publication Date: August 28, 1995
* Individual store prices may vary.
Buy at Local Store
Enter your zip code below to purchase from an indie close to you.
or
Buy Here
Description
Kinsey's skills are about to be sorely tested. She is about to meet her duplicitous match in a couple of world-class prevaricators who quite literally take her for the ride of her life.
""L" Is for Lawless" Call it Kinsey Millhone in bad company. Call it a mystery without a murder, a treasure hunt without a map, a quest novel with truly mixed-up motives. Call it the return of Kinsey as bad girl-- quick-witted and quicksilvery, smart-mouthed and smart-alecky-- poking her nose into everyone's dirty laundry as she joins up with a modern-day Bonnie and Clyde in an "Our Gang" comedy that will take her halfway across the country and leave her with a major headache and an empty bank balance.
America's favorite borderline delinquent is back with her one-liners on tap and her energy level on high, romping through her fastest and funniest adventure in this, her twelfth foray into the alphabet of crime.
""A" Is for Alibi"
""B" Is for Burglar"
""C" Is for Corpse"
""D" Is for Deadbeat"
""E" Is for Evidence"
""F" Is for Fugitive"
""G" Is for Gumshoe"
""H" Is for Homicide"
""I" Is for Innocent"
""J" Is for Judgment"
""K" Is for Killer"
""L" is for Lawless"
""M" Is for Malice"
""N" Is for Noose"
""O" Is for Outlaw.
About the Author
Sue Grafton entered the mystery field in 1982 with the publication of 'A' Is for Alibi, which introduced female hard-boiled private investigator, Kinsey Millhone, operating out of the fictional town of Santa Teresa, (aka Santa Barbara) California. 'B' is for Burglar followed in l985 and the series, now referred to as 'the alphabet' mysteries, is still going strong. In addition to her books, she's published several Kinsey Millhone short stories, and with her husband, Steven Humphrey, has written numerous movies for television, including "A Killer in the Family" (starring Robert Mitchum), "Love on the Run" (starring Alec Baldwin and Stephanie Zimbalist) and two Agatha Christie adaptations, "Sparkling Cyanide" and "Caribbean Mystery," which starred Helen Hayes. Grafton is published in 28 countries and 26 languages. She loves cats, gardens, and good cuisine. Sue has a home in Montecito, California, and another in Louisville, the city in which she was born and raised.
Praise For L Is for Lawless…
"Some of the scenes Ms. Grafton most enjoys writing are about the imperfections of her heroine. 'I work to keep her flawed and inconsistent,' she says. The flaws are, for many readers, a major part of Kinsey's charm. After all, who can resist a character who sometimes lies 'just to keep up my skills'?"--Enid Nemy, The New York Times

"Grafton exhibits a sharp ear for dialogue and a quarter-horse pace. Her characters are as real as any this side of Elmore Leonard. "K" Is for Killer offers further proof of Grafton's growth as a writer. This is one mystery series that gains strength with passing letter."--Lorenzo Carcaterra, People

"Unlike many detective series, Grafton's seems only to get better each time out."--Gene Lyons, Entertainment Weekly