Dr. Tatiana's Sex Advice to All Creation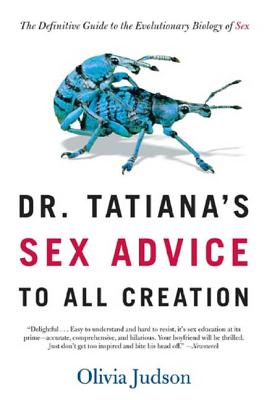 Dr. Tatiana's Sex Advice to All Creation
The Definitive Guide to the Evolutionary Biology of Sex
Holt McDougal, Paperback, 9780805063325, 320pp.
Publication Date: May 1, 2003
* Individual store prices may vary.
Buy Now
or
Shop Local
Enter your zip code below to purchase from an indie close to you.
Description
"Delightful . . . Easy to understand and hard to resist, it's sex education at its prime accurate, comprehensive, and hilarious." "Newsweek"
An uproarious and authoritative natural history in the form of letters to and answers from the preeminent sexpert in all creation, this bestselling guidebook to sex reveals, for example, when necrophilia is acceptable, how to have a virgin birth, and when to eat your lover. It also advises on more mundane matters such as male pregnancy and the joys of a detachable penis.
At once entertaining and wise, Dr. Tatiana (a.k.a. Olivia Judson) fuses natural history with advice to the lovelorn, blends wit and rigor, and reassures her anxious correspondents that although the acts they describe might sound appalling and unnatural, they are all perfectly normal so long as you are not a human. In the process, she explains the science behind it all, from Darwin's theory of sexual selection to why sexual reproduction exists at all. By applying human standards to the natural world, in the end she reveals the wonders of both.
About the Author
An alumna of Stanford with a doctorate from Oxford, Olivia Judson is an evolutionary biologist and award-winning journalist who has published in "The Economist", "Nature", "Science, " and "The Times Higher Education Supplement". She is the author of the book "Dr. Tatiana's Sex Advice to All Creation". She is presently a research fellow at Imperial College in London.
Praise For Dr. Tatiana's Sex Advice to All Creation…
"Darwin titillated 18th-century London with his poem 'The Loves of Plants.' He never knew the half of it. Dr. Tatiana knows how the other half loves, and it's much kinkier than anybody imagined. Never has science seemed more like daytime TV." —Matt Ridley, author of The Red Queen

"Perhaps the most original advice manual ever written . . . Judson has pulled off the rarest coup: a science book that's actually fun to read." —The New Republic

"Funny and blissfully original . . . Dr. Tatiana's science is first-rate." —The Economist

"Whimsical, irreverent and illuminating . . . A most amusing and educative book on animal sex." —San Francisco Chronicle

"Judson's witty, well-researched vignettes are a guilty pleasure, natural history that goes down as sweet as a trashy tell-all." —Outside

"Captivating . . . An evolutionary biologist with interesting and amusing things to tell us. —The Wall Street Journal

"Wonderfully entertaining and authoritative . . . A stimulating feast of extraordinary sexual practices." —Nature