Gerald R. Ford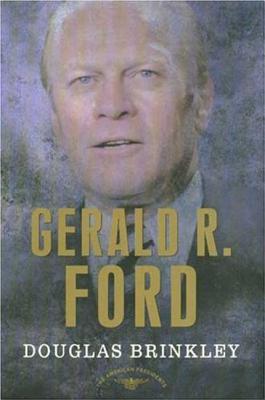 Gerald R. Ford
The 38th President, 1974-1977
Times Books, Hardcover, 9780805069099, 199pp.
Publication Date: February 6, 2007
* Individual store prices may vary.
Buy at Local Store
Enter your zip code below to purchase from an indie close to you.
or
Buy Here
Description
The "accidental" president whose innate decency and steady hand restored the presidency after its greatest crisis
When Gerald R. Ford entered the White House in August 1974, he inherited a presidency tarnished by the Watergate scandal, the economy was in a recession, the Vietnam War was drawing to a close, and he had taken office without having been elected. Most observers gave him little chance of success, especially after he pardoned Richard Nixon just a month into his presidency, an action that outraged many Americans, but which Ford thought was necessary to move the nation forward.
Many people today think of Ford as a man who stumbled a lot--clumsy on his feet and in politics--but acclaimed historian Douglas Brinkley shows him to be a man of independent thought and conscience, who never allowed party loyalty to prevail over his sense of right and wrong. As a young congressman, he stood up to the isolationists in the Republican leadership, promoting a vigorous role for America in the world. Later, as House minority leader and as president, he challenged the right wing of his party, refusing to bend to their vision of confrontation with the Communist world. And after the fall of Saigon, Ford also overruled his advisers by allowing Vietnamese refugees to enter the United States, arguing that to do so was the humane thing to do.
Brinkley draws on exclusive interviews with Ford and on previously unpublished documents (including a remarkable correspondence between Ford and Nixon stretching over four decades), fashioning a masterful reassessment of Gerald R. Ford's presidency and his underappreciated legacy to the nation.
About the Author
Patricia Daniels is an author and editor for National Geographic who has written, edited, or contributed to books on history, science, and geography, most recently the "National Geographic Encyclopedia of Space." She lives in State College, Pennsylvania.
Stephen G. Hyslop has been a writer and editor for Time-Life Books and National Geographic, as well as author of "Bound for Santa Fe" and "Chroniclers of Indian Life." He lives in Virginia.
Douglas G. Brinkley is the director of the Theodore Roosevelt Center for American Civilization and Professor of History at Tulane University. He authored two "New York Times" Best Sellers: "Tour of Duty: John Kerry and the Vietnam War" and "Voices of Valor: D-Day; June 6, 1944." He is the official historian for "NBC News." Dr. Brinkley is contributing editor for the "Los Angeles Times Book Review" and "American Heritage" and a contributor to the "New York Times"and "The New Yorker."

Arthur M. Schlesinger, Jr. (October 15, 1917-February 28, 2007) was a renowned American historian, social critic, and the prolific author of numerous books including, most recently, "War and the American Presidency," He twice won both the Pulitzer Prize, for "The Age of Jackson" and "A Thousand Days," and the National Book Award, also for "A Thousand Days" as well as "Robert Kennedy and his Times," In 1998 he was awarded the prestigious National Humanities Medal.