George H. W. Bush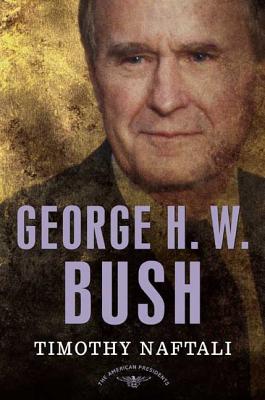 George H. W. Bush
Times Books, Hardcover, 9780805069662, 202pp.
Publication Date: December 10, 2007
* Individual store prices may vary.
Buy at Local Store
Enter your zip code below to purchase from an indie close to you.
or
Buy Here
Description
The judicious statesman who won victories abroad but suffered defeat at home, whose wisdom and demeanor served America well at a critical time
George Bush was a throwback to a different era. A patrician figure not known for eloquence, Bush dismissed ideology as "the vision thing." Yet, as Timothy Naftali argues, no one of his generation was better prepared for the challenges facing the United States as the Cold War ended. Bush wisely encouraged the liberalization of the Soviet system and skillfully orchestrated the reunification of Germany. And following Iraq's invasion of Kuwait in 1990, he united the global community to defeat Saddam Hussein. At home, Bush reasserted fiscal discipline after the excesses of the Reagan years.
It was ultimately his political awkwardness that cost Bush a second term. His toughest decisions widened fractures in the Republican Party, and with his party divided, Bush lost his bid for reelection in 1992. In a final irony, the conservatives who scorned him would return to power eight years later, under his son and namesake, with the result that the elder George Bush would see his reputation soar.
About the Author
An Associate Professor at the University of Virginia's Miller Center of Public Affairs, Timothy Naftali directs the Presidential Recordings Program and the Kremlin Decision-making Project. Co-author of One Hell of a Gamble: Khrushchev, Castro and Kennedy, 1958 1964, he is currently completing Khrushchev's Cold War and Blindspot: The Secret History of US Counterterrorism. Naftali was most recently a consultant to the 9/11 Commission.

Arthur M. Schlesinger, Jr. (October 15, 1917-February 28, 2007) was a renowned American historian, social critic, and the prolific author of numerous books including, most recently, "War and the American Presidency," He twice won both the Pulitzer Prize, for "The Age of Jackson" and "A Thousand Days," and the National Book Award, also for "A Thousand Days" as well as "Robert Kennedy and his Times," In 1998 he was awarded the prestigious National Humanities Medal.

Sean Wilentz, a professor of history at Princeton University, is the author or editor of seven books, including "Chants Democratic" and "The Rise of American Democracy". He has also written for" The New York Times", the "Los Angeles Times", "The New Republic", and other publications. He lives in Princeton, New Jersey.