Shakespeare's Secret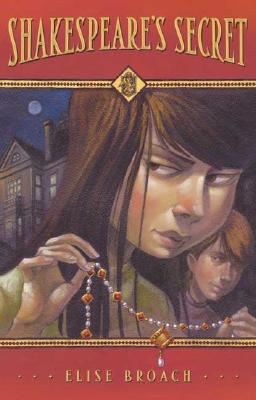 Shakespeare's Secret
Henry Holt & Company, Hardcover, 9780805073874, 256pp.
Publication Date: May 2005
* Individual store prices may vary.
Not Currently Available for Direct Purchase
or
Shop Local
Enter your zip code below to purchase from an indie close to you.
Description
" Hero changed into a T-shirt, grabbed a book, and padded barefoot into her sister's room. The large windows overlooked the backyard. She could see the moonlight streaming over the trees and bushes, making long, crazy shadows across the grass. Was there a diamond hidden out there somewhere? She looked at Beatrice, already settled under the covers. She wanted to tell her about the Murphys, but at the same time, she didn't. She wanted to keep the secret. To have something that belonged only to her."
A missing diamond, a mysterious neighbor, a link to Shakespeare-can Hero uncover the connections?
When Hero starts sixth grade at a new school, she's less concerned about the literary origins of her Shakespearean name than about the teasing she's sure to suffer because of it. So she has the same name as a girl in a book by a dusty old author. Hero is simply not interested in the connections. But that's just the thing; suddenly connections are cropping up all over, and odd characters and uncertain pasts are exactly what do fascinate Hero. There's a mysterious diamond hidden in her new house, a curious woman next door who seems to know an awful lot about it, and then, well, then there's Shakespeare. Not to mention Danny Cordova, only the most popular boy in school. Is it all in keeping with her namesake's origin-just much ado about nothing? Hero, being Hero, is determined to figure it out.
In this fast-paced novel, Elise Broach weaves an intriguing literary mystery full of historical insights and discoveries.
A JUNIOR LIBRARY GUILD SELECTION.
About the Author
Elise Broach is the "New York Times" bestselling author of "Masterpiece", "Shakespeare s Secret and Desert Crossing", "Missing on Superstition Mountain", the first book in the Superstition Mountain Trilogy, as well as several picture books. Her books have been selected as ALA notable books, Junior Library Guild selections, a "Publishers Weekly" Best Children s Book, a New York Public Library Best Book for the Teenage, an IRA Teacher s Choice, an E.B. White Read Aloud Award, and nominated for an Edgar Award, among other distinctions. Ms. Broach holds undergraduate and graduate degrees in history from Yale University. She was born in Georgia and lives in the woods of rural Connecticut, walking distance from three farms, a library, a post office and two country stores.
Praise For Shakespeare's Secret…
"A new kid in town and her name is Hero. Just wait until you read about her and the mystery she's uncovered. I couldn't wait. I kept turning the pages. Terrific Hero, terrific book. I loved it!"--Patricia Reilly Giff (author of the Newbery Honor Books Pictures of Hollis Woods and Lily's Crossing)
"More linear and traditionally evidence-driven than Blue Balliett's Chasing Vermeer, this agreeable history-mystery may have even more appeal to budding sleuths."—Kirkus Reviews, starred review