Waiting for Gregory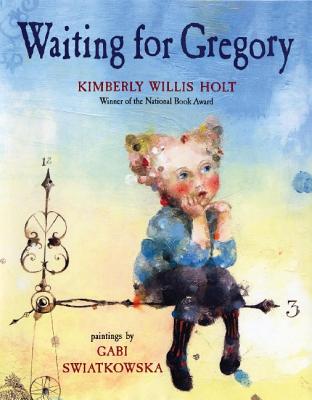 Waiting for Gregory
Henry Holt & Company, Hardcover, 9780805073881, 32pp.
Publication Date: April 2006
* Individual store prices may vary.
Shop Local
Enter your zip code below to find indies closest to you.
Description
The first picture book from National Book Award winner Kimberly Willis Holt
"When exactly" is cousin Gregory going to be born? asks little Iris. Each family member has a different answer to her question. While she's waiting for what seems like forever, Iris thinks about all the exciting things she and her new cousin will someday do together. And given Iris' vibrant imagination, there's no telling what to expect. National Book Award winner Kimberly Willis Holt offers a unique take on some of the traditional and not-so-traditional myths surrounding a baby's arrival, with an extra layer of imagination added by Gabi Swiatkowska's fresh and whimsical paintings.
About the Author
Kimberly Willis Holt is the author of the Piper Reed series, including "Piper Reed, Navy Brat", "Piper Reed, Clubhouse Queen", and "Piper Reed, Rodeo Star". She has written many award-winning novels, including "The Water Seeker" and "My Louisiana Sky", as well as the picture books "Waiting for Gregory" and "Skinny Brown Dog". A former Navy brat herself, Holt was born in Pensacola, Florida, and lived all over the U.S. and the world--from Paris to Norfolk to Guam to New Orleans. Holt long dreamed of being a writer, but first worked as a radio news director, marketed a water park, and was an interior decorator, among other jobs. A few years after she started writing, her third book, "When Zachary Beaver Came to Town", won a National Book Award for Young People's Literature. She resides in West Texas with her family.
If you're born on this planet, you're set for a colorful life, whether you want it or not. I found myself in Eastern Europe, in southern Poland, in a little village with a weird name.
I don't remember making that decision.
The first thing I remember are the crows. Crows are to Poland what ravens are to London. The crows would hold daily conferences right in front of my house, spreading their black selves like a carpet over the grassy field. I'd run up to them and watch them rise like a shimmering giant, watch the sky swallow them up.
I wrote stories until it was decided that there was too much kissing going on--in the stories, of course, not in real life. I was forbidden to write any more. I drew pictures, of princesses mostly. As there were no objections, I kept at it all through elementary school, gymnasium, college, and right into my professional life.
While at elementary school, I really did believe I was a princess. Not the Disney kind, but one more along the lines of a Russian folktale, the princess lost and never found, waiting patiently for the day it was officially announced.
I entered the Lyceum of Art at fourteen and discovered it was full of princesses, as well as knights. Sometime around the third year of school it dawned on me that if I was the "lost and never found" kind of princess, there was no use waiting for the official announcement. So I climbed on top of my wardrobe to take a look at things from a different perspective and decided it was time to go to America.
I took my dog with me. My dog was very fond of eating toilet paper, and since we had no such commodity in Poland at the time, I figured he'd do better in America. Plus, I couldn't bear to leave him behind.
Gabi Swiatkowska was born in Tychy, Poland, and attended the Lyceum of Art in Bielsko-Biala, as well as the Cooper Union School of Art in New York City. She lives in Brooklyn, New York.
Praise For Waiting for Gregory…
"Gorgeous to look at."
--The New York Times "Swiatkowska ... elegantly muses on the elasticity of time and the mystery of gestation.... This is one for all ages."
--Publishers Weekly (Starred Review) "This child's-eye take on the passage of time is concrete and comforting."
--Kirkus Reviews "There is more to discover with each viewing."
--School Library Journal "The mix of the everyday and the magical from the child's viewpoint captures the longing, mystery, and joy."
--Booklist