The Messiah of Morris Avenue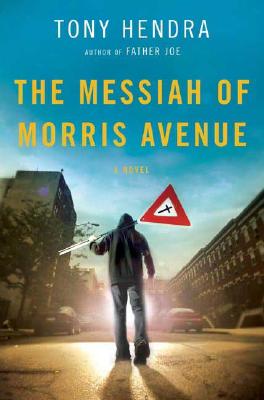 The Messiah of Morris Avenue
Henry Holt and Co., Hardcover, 9780805079647, 256pp.
Publication Date: April 4, 2006
* Individual store prices may vary.
Not Currently Available for Direct Purchase
or
Shop Local
Enter your zip code below to purchase from an indie close to you.
Description
From the bestselling author of Father Joe, a slyly comic, deeply spiritual novel that imagines the Second Coming--and an unlikely, lovably human new savior

Tony Hendra's Father Joe became a new classic of faith and spirituality--even for those not usually inclined. Now Hendra is back with a novel set in a very reverent future where church and state walk hand in hand. Fade-in as Johnny Greco--a fallen journalist who nurses a few grudges along with his cocktails--stumbles onto the story of a young man named Jay who's driving around New Jersey preaching radical notions (kindness, generosity) and tossing off miracles. How better, Johnny schemes, to stick it to the Reverend Sabbath, America's #1 Holy Warrior, than to write a headline-making story announcing Jay as the Second Coming? Then something strange happens. Died-in-the-wool skeptic Johnny actually finds his own life being transformed by the new messiah.

Alternately hilarious and genuinely moving, The Messiah of Morris Avenue brings to life a savior who reminds the world of what Jesus actually taught and wittily skewers all sorts of sanctimoniousness on both sides of the political spectrum. Writing with heart, a sharp eye, and a passionate frustration with those who feel they hold a monopoly on God, Tony Hendra has created a delightful entertainment that reminds us of the unfailing power of genuine faith.
About the Author
Tony Hendra attended Cambridge University, where he performed frequently with friends and future Monty Pythons John Cleese and Graham Chapman. He was editor in chief of Spy, an original editor of National Lampoon, and he played Ian Faith in This Is Spinal Tap. He has written frequently for New York, Harper's, GQ, Vanity Fair, Men's Journal, and Esquire. Father Joe, was a New York Times Bestseller. He lives in New York.
Praise For The Messiah of Morris Avenue…
"Messiah is just what this country needs right now - a good dose of merriment in the face of crawthumping righteousness. It's a romp of a book but (this is strange) the forgiving spirit of Father Joe hovers. It's hard to think of forgiveness in these rigid times but it's there in The Messiah of Morris Avenue. A rowdy book but, Lord, it's beautiful."--Frank McCourt, author of Angela's Ashes and Teacher Man

"I was prepared for my usual serving of sharp Tony Hendra satire; I was not prepared for his sensitive and highly convincing exposition of the true teachings of Jesus Christ. I love this book."--George Carlin