The House of a Million Pets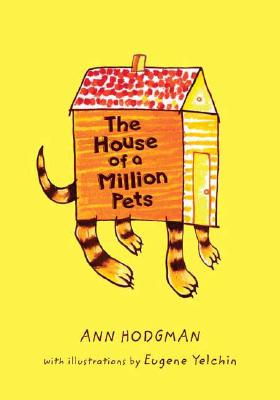 The House of a Million Pets
Henry Holt & Company, Hardcover, 9780805079746, 263pp.
Publication Date: September 4, 2007
* Individual store prices may vary.
Shop Local
Enter your zip code below to find indies closest to you.
Description
Ann Hodgman's basement is home to three guinea pigs, a cage full of birds, a big gray rabbit, a prairie dog, a bulbul (look it up), two little rabbits, a hamster, and twenty-six pygmy mice. And that's just the basement.Would your parents ever let you have that many pets at once?
If Ann Hodgman were your parents, she'd let you.
Here is the true story of what it's like to live in her barnyard--er, house--with more animals than you'll be able to keep track of.
Any kid (or adult) who has ever owned or wanted a pet will love these furry, feathered, slimy, and scaly stories.
"The House of a Million Pets" is a 2008 Bank Street - Best Children's Book of the Year.
About the Author
Ann Hodgman is the author of over forty childrens books, several humor books most recently the self-help/humor book I saw Mommy Kicking Santa Claus--and four cookbooks: Beat This!, Beat That!, One Bite Won t Kill You, and, in 2011, a second edition of Beat This! She has written articles for the New Yorker, the New York Times Magazine, the New York Times Book Review, the Atlantic Monthly, Food & Wine, Smithsonian, and just about all the women's and parenting magazines. She lives in Washington, Connecticut.

EUGENE YELCHIN studied art and theater design at the Leningrad Institute of Theater Arts. He lives in California.
Praise For The House of a Million Pets…
"Hodgman may not have had a dragon like Hagrid, but her tales are equally engaging, truthful and funny to readers of all ages. She's a James Herriot for the 21st century."
--Kirkus Reviews "Through careful observation [Hodgman's] able to create a distinct personality for most of her pets, and Eugene Yelchin's black-and-white illustrations add a note of whimsy.... By the end of the book, you realize Hodgman is one Crazy Pet Lady. 'Good' crazy, though."
--The New York Times "This humorous animal memoir will jump right off the shelves."--Children's Literature "This amusing ... memoir will have readers wishing they lived near Hodgman so they could drop in and meet who's new."
--School Library Journal "Hodgman goes way beyond the standard pet story."
--Booklist