Class Matters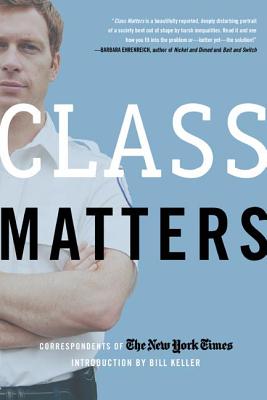 Class Matters
Times Books, Paperback, 9780805080551, 268pp.
Publication Date: September 1, 2005
* Individual store prices may vary.
Buy Now
or
Shop Local
Enter your zip code below to purchase from an indie close to you.
Description
The acclaimed "New York Times" series on social class in America and its implications for the way we live our lives
We Americans have long thought of ourselves as unburdened by class distinctions. We have no hereditary aristocracy or landed gentry, and even the poorest among us feel that they can become rich through education, hard work, or sheer gumption. And yet social class remains a powerful force in American life.
In "Class Matters," a team of" New York Times" reporters explores the ways in which class defined as a combination of income, education, wealth, and occupation influences destiny in a society that likes to think of itself as a land of opportunity. We meet individuals in Kentucky and Chicago who have used education to lift themselves out of poverty and others in Virginia and Washington whose lack of education holds them back. We meet an upper-middle-class family in Georgia who moves to a different town every few years, and the newly rich in Nantucket whose mega-mansions have driven out the longstanding residents. And we see how class disparities manifest themselves at the doctor's office and at the marriage altar.
For anyone concerned about the future of the American dream, "Class Matters" is truly essential reading.
""Class Matters" is a beautifully reported, deeply disturbing, portrait of a society bent out of shape by harsh inequalities. Read it and see how you fit into the problem or better yet the solution "
Barbara Ehrenreich, author of "Nickel and Dimed" and "Bait and Switch"

About the Author
"The New York Times" is regarded as the world's preeminent newspaper. Its news coverage is known for its exceptional depth and breadth, with reporting bureaus throughout the United States and in 26 foreign countries. Winner of 112 Pulitzer Prizes, "The Times" has the largest circulation of any seven-day newspaper in the U.S.

BILL KELLER has worked at The New York Times for more than twenty years, serving as executive editor, domestic correspondent, foreign correspondent, foreign editor, managaing editor, and currently as an op-ed columnist. He is the author of "The Tree Shaker", among other books. He won a Pulitzer Prize for his coverage of the Soviet Union in 1989 and was chief of the Johannesburg bureau from 1192 to 1195, witnessing firsthand the remarkable events that led to the first free election in South Africa. He lives in New York.