Cat Diaries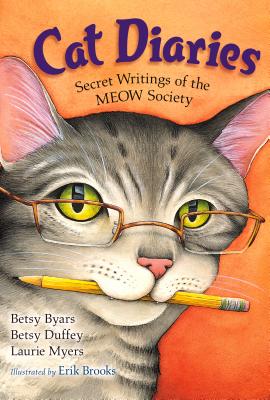 Cat Diaries
Secret Writings of the MEOW Society
Henry Holt & Company, Hardcover, 9780805087178, 80pp.
Publication Date: April 27, 2010
* Individual store prices may vary.
Shop Local
Enter your zip code below to find indies closest to you.
Description
At the annual gathering of the MEOW society, cats of all kinds convene to share their stories and those of their ancestors. Chico, the smallest cat in the world, recounts stopping a crime. The Pirate Cat tells of the fateful day when he discovered a treasure while hunting for mice. And Georgio shares his delectable--and sometimes surprising--recipes.
In this winning companion to "Dog Diaries," animal lovers will be wooed by the charm, strength, and wit of these feline friends.
About the Author
Betsy Byars, a native of Charlotte, North Carolina, received a degree in English from Queens College there. Currently, she lives in Clemson, SC with her husband, a college professor. They have four grown children--one son and three daughters--and five grandchildren. "My own hobbies," Byars says, "are rather quiet. I like to read and do needlework, and I love animals. But my husband has some very interesting hobbies, and through him, I've learned to fly and earned my pilot's license. Together, we fly all over the United States. Since our children are all grown now, we also travel a great deal in Europe, but we take commercial flights because our plane is not really equipped to make transatlantic flights."

Betsy Duffey is a licensed counselor and worked for four years with homeless women, often using writing as a tool for healing. Over the years Betsy has spoken at hundreds of elementary schools and has shared her ideas with countless women's groups. She lives with her husband in Atlanta, Georgia. They have two grown sons. Betsy and her sister, Laurie Myers, write together as the Writing Sisters.

Laurie Myers has spoken extensively in elementary schools across the nation, sharing her love of reading and writing. She has a passion for helping those in need, working as a nurse, tutoring incarcerated youth, and cofounding an urban school. Laurie lives with her husband in Augusta, Georgia. They have three grown children. Laurie and her sister, Betsy Duffey, write together as the Writing Sisters.