A People's History of American Empire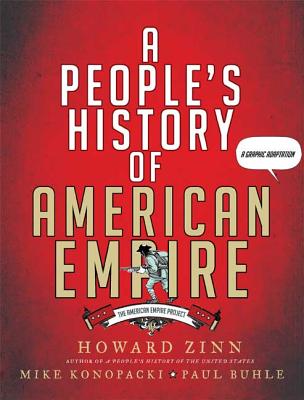 A People's History of American Empire
A Graphic Adaptation
Metropolitan Books, Paperback, 9780805087444, 273pp.
Publication Date: April 1, 2008
* Individual store prices may vary.
Buy Now
or
Shop Local
Enter your zip code below to purchase from an indie close to you.
Description
Adapted from the bestselling grassroots history of the United States, the story of America in the world, told in comics form
Since its landmark publication in 1980, "A People's History of the United States" has had six new editions, sold more than 1.7 million copies, become required classroom reading throughout the country, and been turned into an acclaimed play. More than a successful book, "A People's History" triggered a revolution in the way history is told, displacing the official versions with their emphasis on great men in high places to chronicle events as they were lived, from the bottom up.
Now Howard Zinn, historian Paul Buhle, and cartoonist Mike Konopacki have collaborated to retell, in vibrant comics form, a most immediate and relevant chapter of "A People's History" the centuries-long story of America's actions in the world. Narrated by Zinn, this version opens with the events of 9/11 and then jumps back to explore the cycles of U.S. expansionism from Wounded Knee to Iraq, stopping along the way at World War I, Central America, Vietnam, and the Iranian revolution. The book also follows the story of Zinn, the son of poor Jewish immigrants, from his childhood in the Brooklyn slums to his role as one of America's leading historians.
Shifting from world-shattering events to one family's small revolutions, "A People's History of American Empire" presents the classic ground-level history of America in a dazzling new form.
About the Author
Howard Zinn (1922 2010) was a historian, playwright, and social activist. In addition to A People s History of the United States, which has sold more than two million copies, he is the author of many books, including the autobiography You Can t Be Neutral on a Moving Train, The People Speak, and Passionate Declarations.



Paul Buhle is Lecturer in the American Civilization Department at Brown University and coauthor of "Tender Comrades: A Backstory of the Hollywood Blacklist "(1997). Dave Wagner is the former political editor of the "Arizona Republic. "He has written on film for "Cineaste "and "Filmhaeftet "(Stockholm).
Praise For A People's History of American Empire…
"At the heart of this wide-ranging comics indictment of American Empire are the terrific human stories of those who have resisted—including wonderful autobiographical episodes from author Howard Zinn's own courageous and inspiring life."—Joe Sacco, author of Safe Area Gorazde
"Ingenious in its conception and brilliant in execution, this comics version of Howard Zinn's classic history breathes new life into the stories of people who never thought their stories would be told.  It is urgently necessary for our times: read this book and see how to raise your voice against all the forces that would drown you out.  A modern activist's primer!"—Ben Affleck