Slanted and Enchanted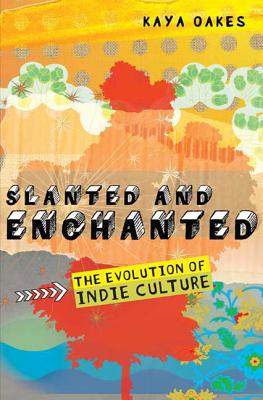 Slanted and Enchanted
The Evolution of Indie Culture
Henry Holt & Company, Paperback, 9780805088526, 235pp.
Publication Date: June 9, 2009
* Individual store prices may vary.
Buy Now
or
Shop Local
Enter your zip code below to purchase from an indie close to you.
Description
A lively examination of the spirit and practices that have made the indie movement into a powerful cultural phenomenon
You know the look: skinny jeans, Chuck Taylors, perfectly mussed bed-head hair; You know the music: Modest Mouse, the Shins, Pavement. You know the ethos: DIY with a big helping of irony. But what does it really mean to be "indie"?
As popular television shows adopt indie soundtracks and the signature style bleeds into mainstream fashion, the quirky individuality of the movement seems to be losing ground. In "Slanted and Enchanted," Kaya Oakes demonstrates how this phase is part of the natural cycle of a culture that reinvents itself continuously to preserve its core ideals of experimentation, freedom, and collaboration.
Through interviews and profiles of the artists who have spearheaded the cause over the years including Mike Watt, David Berman, Kathleen Hanna, and Dan Clowes Oakes examines the collective creativity and cross-genre experimentation that are the hallmarks of this popular lifestyle trend. Her visits to music festivals, craft fairs, and smaller collectives around the country round out the story, providing a compelling portayal of indie life on the ground. Culminating in the current indie milieu of music, crafting, style, art, comics, and zines, Oakes reveals from whence indie came and where it will go next.
About the Author
Kaya Oakes' nonfiction book, Slanted and Enchanted: The Evolution of Indie Culture, was published by Henry Holt in June of 2009. She's also the author of a collection of poetry, TELEGRAPH, which received the Transcontinental Poetry Prize from Pavement Saw Press. In 2002, Kaya cofounded Kitchen Sink Magazine, which received the Utne Independent Press Award for Best New Magazine in 2003. She edited and wrote for Kitchen Sink until it ended its print run in 2007. Since 1999, she's taught writing at the University of California, Berkeley. She earned an MFA in creative writing at Saint Mary's College. Kaya has been the recipient of teaching fellowships from the Mellon Faculty Institute and the Bay Area Writing Project, as well as writing awards from the Academy of American Poets. She's also twice been nominated for the Pushcart Prize in nonfiction. Kaya is a native of Oakland, California. She played cello and bass in several punk and noise bands in the 90s, started her first zine in the 80s, and traveled across the country in a VW Van with her family every summer in the 70s. When she's not teaching, Kaya is a freelance writer, a Grove Talk Speaker at Cal Shakes, a dedicated baker, an advocate for independent media, and a very voracious reader.
Praise For Slanted and Enchanted…
"Relays indie's development … with uncommon insight … [and] makes an impassioned, optimistic case for indie's vitality that doesn't assume readers are coming to [the] book already well versed in the subject…. A comprehensive approach to a subject that is too often reduced to discrete parts…. Fresh and perceptive."—San Francisco Chronicle

"[An] absorbing nonfiction study of indie culture.... Oakes is no dry outsider. She believes in what she describes, she contributes to it and she speaks its language."—The Plain Dealer (Cleveland)

"[A] lively and highly literate explication of various American indie scenes and art forms . . . [Oakes'] focus on independent publishing and writing—provides a worthy parallel narrative to Michael Azzerad's essential indie music history, This Band Could Be Your Life . . . Oakes begins the book with a much appreciated primer on some of the intellectual forebears of her book's central characters, including the poets Frank O'Hara and Allen Ginsberg and the revolutionary street theater group the Diggers. As an explanation and excavation of the already fading recent past, it is essential reading."—Publishers Weekly

"As Oakes reminds us, indie culture has a strong history of reciprocity between producer and consumer; it is a creative community that should produce an equal amount of inspiration and consumption. . . . Covering musicians, zines, comics, independent presses, and homemade crafts and events, Oakes uses the concept of a creative community as a mediating theme to illustrate how indie culture has oscillated between the music and literary scene throughout the last few decades. . . . this will particularly appeal to artists, musicians, writers, and kids with thick-rimmed glasses."—Library Journal

"Oakes' entry on underground comics gives a focused history for the uninitiated, while her firsthand experiences in self-reliant publishing provide a unique insider's view of the struggles to keep such operations afloat. Luminaries such as itinerant bassist Mike Watt, Silver Jews leader David Berman and Ghost World author Dan Clowes give further insight into their respective fields."—Kirkus Reviews

"An intelligent, … passionate … manifesto for Indie culture and its ideals"—Synthesis Weekly