Roosevelt's Beast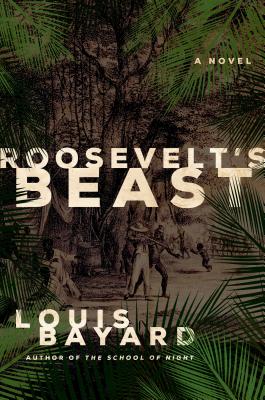 Roosevelt's Beast
Henry Holt & Company, Hardcover, 9780805090703, 299pp.
Publication Date: March 18, 2014
* Individual store prices may vary.
Buy at Local Store
Enter your zip code below to purchase from an indie close to you.
or
Not Currently Available for Direct Purchase
Description
A reimagining of Teddy and Kermit Roosevelt's ill-fated 1914 Amazon expedition a psychological twist on the smart historical thriller that first put Louis Bayard on the map
1914. Brazil's "Rio da Duvida," the River of Doubt. Plagued by hunger and suffering the lingering effects of malaria, Theodore Roosevelt, his son Kermit, and the other members of the now-ravaged Roosevelt-Rondon scientific expedition are traveling deeper and deeper into the jungle. When Kermit and Teddy are kidnapped by a never-before-seen Amazonian tribe, the great hunters are asked one thing in exchange for their freedom: find and kill a beast that leaves no tracks and that no member of the tribe has ever seen. But what are the origins of this beast, and how do they escape its brutal wrath?
"Roosevelt's Beast" is a story of the impossible things that become possible when civilization is miles away, when the mind plays tricks on itself, and when old family secrets refuse to stay buried. With his characteristically rich storytelling and a touch of old-fashioned horror, the bestselling and critically acclaimed Louis Bayard turns the story of the well-known Roosevelt-Rondon expedition on its head and dares to ask: Are the beasts among us more frightening than the beasts within?
About the Author
Louis Bayard is the author of the critically acclaimed "The School of Night" and "The Black Tower," the national bestseller "The Pale Blue Eye," and "Mr. Timothy," a "New York Times" Notable Book. He has written for "Salon," "The New York Times," "The Washington Post," and the "Los Angeles Times," among others. He lives in Washington, D.C.
Praise For Roosevelt's Beast…
"Bayard describes the toll on survivors [of the Roosevelt/Randon expedition] with wonderful dry wit...A mystery in the Arthur Conan Doyle tradition, had Sherlock and Watson been masochistic enough to volunteer for this dreadful trek…Bayard gives us a compassionate, unsentimental portrait of a son who would forever live in the shadow of a colossal father."— Washington Post

"Louis Bayard's imagination is as wild, uncharted, and magnificent as the Amazon, and his tale is as lush as a rainforest. I loved Roosevelt's Beast and was under its spell from Bayard's wondrous – and haunting – first sentence." –Chris Bohjalian, bestselling author of Midwives and The Sandcastle Girls

"[Roosevelt's Beast] never fails to deliver chills and peril in a claustrophobic jungle atmosphere…This journey into the heart of darkness strikes enough notes that a variety of readers will find an element to tempt them, whether it's the terrifying unknown or the simple desires of the human heart."—Shelf Awareness

"Bayard's heart-of-darkness saga is impressive—blood and sacrifice, primitive peoples and Roosevelt courage.… [He] exactingly chronicles the hardships of charting the river, right down to the damp, dangers and drudgery of the Amazonian jungle… [Roosevelt's Beast] is a suspense-filled re-imagining of history deepened by a confrontation with evil's supernatural presence."—Kirkus Reviews
"Bayard has written a riveting thriller and psychological study wrapped around historical events and people and gives the reader a real existential puzzle to put together."— Elizabeth Dickie, Booklist
"For the past decade or so Louis Bayard has been taking the subjects of 'genre fiction'—from Gothic murder to jungle adventure—and rejuvenating them with all the skills of a literary novelist. Roosevelt's Beast combines dizzying narrative energy with real psychological subtlety and stylistic elegance.  It's an immensely satisfying book."—Thomas Mallon, author of Henry and Clara and Watergate: A Novel
"Louis Bayard's gift is to seamlessly merge careful research with the fantastic, the horrible, the sublime, and the universal. Roosevelt's Beast is an adventure story in the grand style, from a time when the rivers of the Amazon jungle were as unmapped as the depravity of the human heart--had Kipling ever turned his mind to the horror genre beyond short stories, this gripping novel might have been the result."
–Lyndsay Faye, author of The Gods of Gotham
"An edge-of-your-seat thriller with all the twists and turns of an unexplored river, Roosevelt's Beast is also something greater: a triumphant proof that the truths of art can surpass those of history."
–Kermit Roosevelt III, great-great grandson of Theodore Roosevelt, and author of In the Shadow of the Law