One Plus One Equals Blue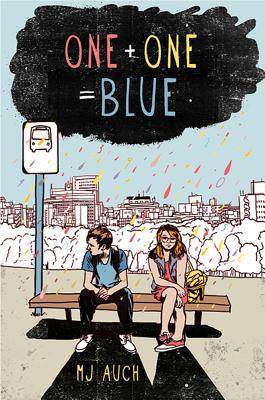 One Plus One Equals Blue
Henry Holt & Company, Hardcover, 9780805094053, 268pp.
Publication Date: April 30, 2013
* Individual store prices may vary.
Buy at Local Store
Enter your zip code below to purchase from an indie close to you.
or
Buy Here
Description
Twelve year-old Basil knows he's special he's been associating numbers with colors since he was a kid. His gift (or curse) has turned him into somewhat of a loner, but his world begins to change when he meets Tenzie, the new girl in school who has similar freakisms. She, too, has synesthesia (a condition in which one type of stimulation evokes the sensation of another). At first, Basil is somewhat annoyed with Tenzie's pushiness, but after Basil's estranged mother returns, his life is turned upside down . . . and Tenzie may be the only person to help him put it back together again.
Once again, MJ Auch has written a thoughtful coming-of-age novel that explores friendship, family, and fitting in, in "One Plus One Equals Blue.
About the Author
"The Easter Egg Farm" is Mary Jane Auch's first picture book. "I've always wanted to illustrate children's books," she says, "but the ideas that came to me were for older children, so I wrote novels instead. Then one day I had an idea about a chicken, and I thought it would make a good picture book. I've loved chickens since I was little. "The Easter Egg Farm" was inspired by some special hens we raised when my children were young. The hens laid pastel-colored eggs. We never had a chicken as talented as Pauline, but one of our hens laid lavender eggs with pink spots-honest! Those eggs wouldn't hatch out on a sunny windowsill, though. Only magic eggs can do that." Ms. Auch has written seven popular novels for Holiday House, including "A Sudden Change of Family and Kidnapping Kevin Kowalski." She majored in art at Skidmore College and was an illustrator for "Penny-whistle Press. She lives with her husband, Herm, and their tow children on a farm near Rochester, New York.
Praise For One Plus One Equals Blue…
"It's an account of a kid who learns that it's okay to disturb the universe a little but also to appreciate what he has." -- BCCB
"Carly is a rich character: charismatic, full of good intent, and quick to excite." --
Booklist
"Basil and Tenzie both have synesthesia, either a gift or a curse that can make a person into one of life's rejects. . . An engaging coming-of-age story." -- Kirkus Reviews
Praise for ONE-HANDED CATCH:
"Quality writing and a protagonist who will inspire readers." —VOYA
Praise for WING NUT:
"A good book for reluctant boy readers." —Booklist
Praise for GUITAR BOY:
"This effort quickly hits its stride, mostly due to well-drawn, believable characters and the strength of Travis's nearly indomitable spirit." —Kirkus Reviews