Potterwookiee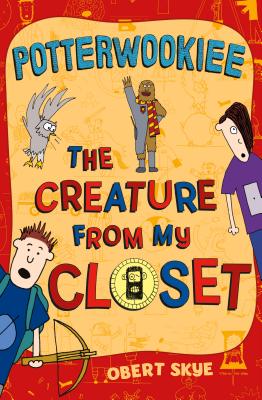 Potterwookiee
Henry Holt & Company, Hardcover, 9780805094510, 245pp.
Publication Date: September 18, 2012
* Individual store prices may vary.
Buy at Local Store
Enter your zip code below to purchase from an indie close to you.
or
Buy Here
Description
The latest creature to emerge from Rob's closet is a cross between Chewbacca from Star Wars and Harry Potter. Rob names him "Potterwookiee" ("Hairy" for short) and soon Rob finds himself treading water as he tries to figure out how to care for his mixed-up friend. Great laughs and great books help Rob along the way.
About the Author
Obert Skye is the author and illustrator of The Creature from My Closet: Wonkenstein. He has also written the bestselling children's fantasy adventure series for Simon and Schuster, Leven Thumps, and Pillage.
Praise For Potterwookiee…
•     School Library Journal, November 2012 review:
•       The text is hysterical by itself, but acts as the straight man in relation to the one-two punch of the childlike drawings and captions that appear on almost every page. Get multiple copies of this book: it will fly off the shelves."
•       Kirkus Reviews, 7/15/2012 review:
•       "The second doll-sized literary mashup to come out of a wimpy kid's magic closet adds wizardly spells [and] noxious smells…"
•       Publishers Weekly, 8/20/2012 review:
•       "A mashup of J.K. Rowling's Harry Potter and Chewbacca the Wookiee from Star Wars . . .  sure to provoke laughs."
Praise for Wonkenstein:
"Comfy antics for readers who don't probably much like reading—which, one thinks, is exactly the point." —Kirkus Reviews
"Quite funny and has a lot of laugh-out-loud moments. . . . the idea of a hybrid Willy Wonka/Frankenstein character is original and hilarious." —SLJ
"Highly amusing new series starter. . . . Skye gives Rob a self-deprecating charm and highlights the pleasures of books both subtly and effectively." —Booklist
"Filled with spot-on commentary and a wince-inducing supporting cast, middle grade guys won't be able to keep Wonkenstein to themselves. . . . This pitch-perfect offering should appeal to reluctant readers, not to mention the legion Wimpy Kid fans." —Shelf Awareness