Soldiers First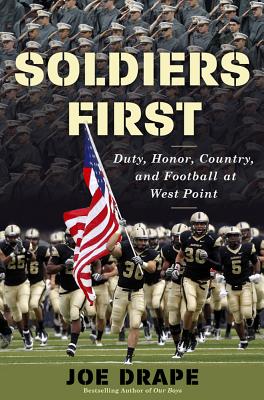 Soldiers First
Duty, Honor, Country, and Football at West Point
Times Books, Hardcover, 9780805094909, 275pp.
Publication Date: September 4, 2012
* Individual store prices may vary.
Buy at Local Store
Enter your zip code below to purchase from an indie close to you.
or
Not Currently Available for Direct Purchase
Description
Bestselling author Joe Drape reveals the unique pressures and expectations that make a year of Army football so much more than just a tally of wins and losses.
The football team at the U.S. Military Academy is not like other college football teams. At other schools, athletes are catered to and coddled at every turn. At West Point, they carry the same arduous load as their fellow cadets, shouldering an Ivy League caliber education and year-round military training. After graduation they are not going to the NFL but to danger zones halfway around the world. These young men are not just football players, they are soldiers first.
"New York Times" sportswriter Joe Drape takes us inside the world of Army football, as the Black Knights and their third-year coach, Rich Ellerson, seek to turn around a program that had recently fallen on hard times, with the goal to beat Navy and "sing last" at the Army-Navy game in December. The 2011 season would prove a true test of the players' mettle and perseverance.
Drawing on his extensive and unfettered access to the players and the coaching staff, Drape introduces us to this special group of young men and their achievements on and off the field. Anchoring the narrative and the team are five key players: quarterback Trent Steelman, the most gifted athlete; linebacker Steve Erzinger, who once questioned his place at West Point but has become a true leader; Andrew Rodriguez, the son of a general and the top scholar-athlete; Max Jenkins, the backup quarterback and the second-in-command of the Corps of Cadets; and Larry Dixon, a talented first-year running back. Together with Coach Ellerson, his staff, and West Point's officers and instructors, they and their teammates embrace the demands made on them and learn crucial lessons that will resonate throughout their lives and ours.
About the Author
Joe Drape is a reporter for the New York Times. He has won numerous national awards for news and sports writing, including the Eclipse Award for outstanding achievement in horse racing writing. He is the author of The Race for the Triple Crown. He lives in New York City.
Praise For Soldiers First…
"What does it take to succeed with honor in America? Soldiers First answers that vital question in a compelling and entertaining way."—Bill O'Reilly, Anchor, Fox News Channel
"As a college head football coach for fifty-seven years, and as an avid fan of military history and the men and women who serve our country, I've always had a ton of respect and admiration for the United States Military Academy and its football program. In Soldiers First, Joe Drape does a great job of documenting the stories of the men who play football at West Point and then go on to protect all of us, becoming America's heroes."--Bobby Bowden, former head football coach, Florida State University
"Joe Drape, the master of living the story, then writing it with style and vision, has provided the leaders of college football a blueprint for change. Soldiers First is the story of how football was once played, and should be today. Most of the elite players in college football would not last two weeks at West Point – marching before dawn, competing academically on an Ivy League level, and sleepwalking to football practice. A tremendous story."--Jim Dent, author of The Junction Boys and Courage Beyond the Game
"West Point is a special place, one that tests cadets in all aspects of life and teaches character and leadership around the clock. Soldiers First captures its rigors as well as its rewards for a group of Army football players whose hearts are bigger than their talents but together find sheer joy in competition."-- Mike Krzyzewski, head basketball coach, Duke University, West Point class of 1969
"If you are growing cynical about college football – and who isn't? – this book is your antidote. Joe Drape delivers first-class reportage into a Division I football program, West Point, and the military itself. His vivid scenes and stories will not allow you to look at any of those the same way again.  Soldiers First is a revelation – and it is unforgettable."--John U. Bacon, bestselling author of Three and Out: Rich Rodriguez and the Michigan Wolverines in the Crucible of College Football