Love in the Time of Global Warming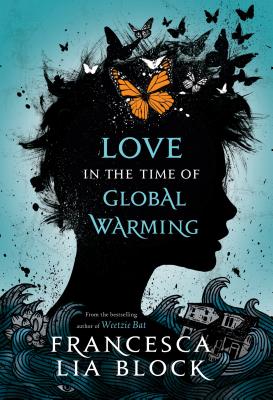 Love in the Time of Global Warming
Henry Holt & Company, Hardcover, 9780805096279, 240pp.
Publication Date: August 27, 2013
* Individual store prices may vary.
Buy Now
or
Shop Local
Enter your zip code below to purchase from an indie close to you.
Description
Seventeen-year-old Penelope (Pen) has lost everything her home, her parents, and her ten-year-old brother. Like a female Odysseus in search of home, she navigates a dark world full of strange creatures, gathers companions and loses them, finds love and loses it, and faces her mortal enemy.
In her signature style, Francesca Lia Block has created a world that is beautiful in its destruction and as frightening as it is lovely. At the helm of "Love in the Time of Global Warming" is Pen, a strong heroine who holds hope and love in her hands and refuses to be defeated.
About the Author
Francesca Lia Block, winner of the prestigious Margaret A. Edwards Award, is the author of many acclaimed and bestselling books, including Weetzie Bat; the book collections Dangerous Angels: The Weetzie Bat Books and Roses and Bones: Myths, Tales, and Secrets; the illustrated novella House of Dolls; the vampire romance novel Pretty Dead; and the gothic werewolf novel The Frenzy. Her work is published around the world.
Praise For Love in the Time of Global Warming…
"This Halloween, bypass the usual vampires and werewolves of teen fiction for what lurks between the covers of Francesca Lia Block's brutal, beautifully written 'Love in the Time of Global Warming.' Those fanged and furry creatures are but a sugar rush compared with Block's genetically engineered giants as she treats us to a dystopian tale tricked out in her signature lush prose."--The Washington Post "The dreamlike quality of the writing, typical of the author's works, functions well with the fantastical elements of the story, which is solid and dense in its descriptions. This is an excellent title for students who have read Homer's Odyssey as well as readers who enjoy a mix of fantasy and reality." -- School Library Journal "The result is original and, no surprise, gracefully written. Magic is no stranger to Block's world, nor is her signature poetic sensibility. And love, in its many varieties and forms, is celebrated, as always." -- Booklist
"Literary-minded readers will enjoy teasing out the allusions to Homer—and possibly even The Wizard of Oz—but knowledge of the classics is not a requirement to be swept up in the tatterdemalion beauty of the story's lavish, looping language."--Publishers Weekly, starred review
"Block's trademark magical realism works best in a brief, dreamy journey such as this one, even if the destination is uncertain . . . Mishmash or no, there's something encouraging about seeing four queer kids on an epic journey across the post-apocalyptic American Southwest." -- Kirkus Reviews
"Block writes about the real Los Angeles better than anyone since Raymond Chandler." —The New York Times Book Review
"Hers is a voice so unique that nobody will ever be able to imitate it." —Cindy Dobrez, Chairwoman of the committee that awarded Block the Margaret A. Edwards Lifetime Achievement Award in 2005
Praise for Pink Smog: Becoming Weetzie:
* "Newcomers and longtime fans alike will find much to savor in this nuanced meditation on what is lost, and what is gained, in the process of becoming an artist." —Publishers Weekly, starred review
* "An intoxicating mix of mystery, fantasy, and romance told in her signature poetic style and peopled by guardian angels, witches, a goddess, and a demon." —Booklist, starred review
Praise for Dangerous Angels: The Weetzie Bat Books:
"Ms. Block's far-ranging free association has been controlled and shaped . . . with sensual characters. The language is inventive Californian hip, but the patterns are compactly folkloristic and the theme is transcendent." —The New York Times Book Review
"Magic is everywhere in Block's lyrical and resonant fables. At once modern and mythic, her series deserves as much space as it can command of daydream nation's shrinking bookshelves." —Village Voice
Praise for The Rose and the Beast: Fairy Tales Retold:
* "[Block] uses language like a jeweled sword, glittering as it cuts to the heart." —Kirkus Reviews, starred review
* "Block sets out to revisit nine fairy tales, filling her stories with gritty, even headline-grabbing issues. The darkness of these conflicts and subjects proves the strength of the magic she describes: the transfiguring power of love." —Publishers Weekly, starred review
Praise for Psyche in a Dress:
"It is Block's genius to cast the gods with all their beauty and horror, manipulativeness and self-destructiveness, cruelty and tenderness into a modern society that feels a lot like California. . . . Riveting and brilliant, this is a must for most YA collections." —School Library Journal