Hanukkah in Alaska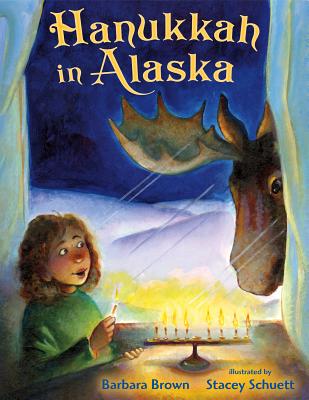 Hanukkah in Alaska
Henry Holt & Company, Hardcover, 9780805097481, 32pp.
Publication Date: October 22, 2013
* Individual store prices may vary.
Shop Local
Enter your zip code below to find indies closest to you.
Description
Hanukkah in Alaska is unlike anywhere else.
Snow piles up over the windows. Daylight is only five hours long. And one girl finds a moose camped out in her backyard, right near her favorite blue swing. She tries everything to lure it away: apples, carrots, even cookies. But it just keeps eating more tree It's not until the last night of Hanukkah that a familiar Jewish holiday tradition provides the perfect-and surprising-solution.
About the Author
Barbara Brown is a walking miracle with a mission to help people find and fulfill the purpose for which they were created and live in the realm of the miraculous. She is an Author, public speaker, ordained minister, founder and CEO of The Ministry Centers and Be Made Whole (a unique holistic wellness center). Divinely healed more than 30 years ago of CMT, a form of Muscular Dystrophy, Barbara has brought "Heaven's View," and the "Realm of the Miraculous" into the lives of world leaders, local church congregations, women's retreat participants, celebrities, convention audiences as a keynote speaker, and everywhere from the whorehouse to the White House. Barbara is the author of the book, GOD is GOD and We Are Not, now in its seventh printing. Learn more at BarbaraBrown.org. Dr. Tom Taylor is a wellness doctor with over 23 years experience focusing only on solutions that work 100% of the time. "Anything less," he says, "means you are someone's science experiment." Dr. Taylor has trained thousands of health care professionals and the public in how to achieve and deliver real-world health and wellness care. He is the co-founder of Victory For Leaders, a publisher, author of three other books and a nutrition manual for practitioners. Learn more at www.facebook.com/ttaylordoc

Stacey Schuett's artwork graces numerous picture books, including the I Can Read Book Forest by Laura Godwin and her own Somewhere in theWorld Right Now, a Reading Rainbow Book. Ms. Schuett lives in Sebastopol, California.
Praise For Hanukkah in Alaska…
"This refreshingly particular Hanukkah celebration effectively encourages readers to gain a new understanding of "miracle."" -- Kirkus Reviews  "Brown crafts an informative Hanukkah tale accompanied by lovely acrylic and gouache illustrations by Schuett." --Publishers Weekly "Glorious." - School Library Journal  
"The text incorporates some facts about Alaska, the northern lights, and moose behavior (though do they really love latkes?). Luminous acrylic and gouache paintings reflect the "rainbow on black velvet" that is the aurora borealis." - The Horn Book