The Widow's Guide to Sex and Dating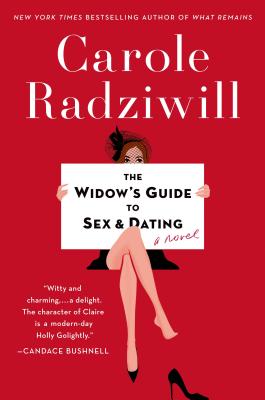 The Widow's Guide to Sex and Dating
Henry Holt & Company, Hardcover, 9780805098846, 302pp.
Publication Date: February 11, 2014
* Individual store prices may vary.
Buy at Local Store
Enter your zip code below to purchase from an indie close to you.
or
Buy Here
Description
"Radziwill's delicious debut novel is a poignant tale of love and loss." "Publishers Weekly"
"One of the richest, most deeply satisfying stories I've read in a long time." "BookPage"
"Carole Radziwill writes like a cross between Sophie Kinsella and Christopher Buckley. Cautiously romantic, unexpectedly moving, and funny " Susan Sarandon
"The Widow's Guide to Sex and Dating "is Carole Radziwill's deliciously smart comedy about a famously widowed young New Yorker hell-bent on recapturing a kind of passionate love she never really had
Claire Byrne is a quirky and glamorous 34-year-old Manhattanite and the wife of a famous, slightly older man. Her husband, Charlie, is a renowned sexologist and writer. Equal parts Alfred Kinsey and Warren Beatty, Charlie is pompous yet charming, supportive yet unfaithful; he's a firm believer that sex and love can't coexist for long, and he does little to hide his affairs. Claire's life with Charlie is an always interesting if not deeply devoted one, until Charlie is struck dead one day on the sidewalk by a falling sculpture ... a Giacometti, no less
Once a promising young writer, Claire had buried her ambitions to make room for Charlie's. After his death, she must reinvent herself. Over the course of a year, she sees a shrink (or two), visits an oracle, hires a "botanomanist," enjoys an erotic interlude (or ten), eats too little, drinks too much, dates a hockey player, dates a billionaire, dates an actor (not any actor either, but the handsome movie star every woman in the world fantasizes about dating). As she grieves for Charlie and searches for herself, she comes to realize that she has an opportunity to find something bigger than she had before maybe even, possibly, love.
About the Author
Carole Radziwill earned a BA at Hunter College and a master s degree at New York University. She spent more than a decade at ABC News, where she reported on stories around the world and earned three Emmys. In 2005 she wrote her first book, What Remains: A Memoir of Fate, Friendship and Love, which spent over twenty weeks on the New York Times Bestsellers List. She lives in New York City and has appeared on Bravo s The Real Housewives of New York City.
Praise For The Widow's Guide to Sex and Dating…
"If you are looking for the perfect fast- paced, light hearted, humorous novel, consider your search to be over. Carole Radziwill's debut novel, The Widow's Guide to Sex and Dating earns five out of five stars. Radziwill's novel is the perfect book for your solo reading or your next book club. The title is tongue-in-cheek, so you won't find yourself delving into deep grief issues. Instead, you will be carving out time to lose yourself in this splendid novel. Humor permeates Radziwill's writing, and the dialogue is flawless…The complete triple package – joy, humor, and romance." --The Huffington Post
"One of the richest, most deeply satisfying stories I've read in a long time…[Radziwill's] spare writing and wry voice make The Widow's Guide an exhilarating, insightful and moving story about loss and identity."-- BookPage
"Claire's story is comedic from the first page, skipping over the stages of grief straight to 'acceptance.' And, through multiple bad dates, a firework romance with Hollywood's leading man, and a lot of over analyzing, the humor stays throughout her entire journey of re-discovering herself." --Justin Jones, The Daily Beast
"A serious attempt to do something comic, a novel about grief and starting again that feels like the product of lived experience." --Salon.com

"From the author of the best-selling memoir What Remains comes a cheeky, affecting debut novel about a woman grieving for her husband and gradually learning to get back in the game"-- O, The Oprah Magazine
"Witty and charming, Carole Radziwill's first novel is a delight. I fell in love with the character of Claire--a modern-day Holly Golightly." --Candace Bushnell, author of Sex and the City and The Carrie Diaries

"Carole Radziwill writes like a cross between Sophie Kinsella and Christopher Buckley. Widow's Guide is a sharp, flamboyant New York novel that revels in the tragicomic absurdities of the city. It's a smart take on Hollywood, too, with gorgeous movie stars and a quirky cast. Cautiously romantic, unexpectedly moving, and funny!" -- Susan Sarandon

"Glib, comic . . [a] novel about a young Manhattan widow looking for love in all the wrong places . . . This may be a grief and recovery story for the privileged, but sharp-fanged Radziwill can be pretty funny . . . .Think Sex and the City in black." -- Kirkus
"Claire never thought about the odds of losing her husband. But after a freak accident abruptly ends her husband's life, she is forced to wrestle with the question, "What next?" For the next year, Claire's life takes a wild turn  . . . and somewhere in the middle of the madness, she begins to realize that her old life wasn't so perfect and perhaps this is all a blessing in disguise—a second chance at life and love. Verdict: Fans of authors such as Jane Green and Madeleine Wickham will enjoy this" – Library Journal

"Radziwill's delicious debut novel… is a poignant tale of love and loss." – Publishers Weekly

"The book's witty humor and Didion-esque raw language provide for a gripping read that triumphantly announces a profound new voice in literary fiction."-- Popbytes.com

"A hilarious account of a young widow's journey to find herself and re-establish her identity." -- PW Show Daily