A History of Zionism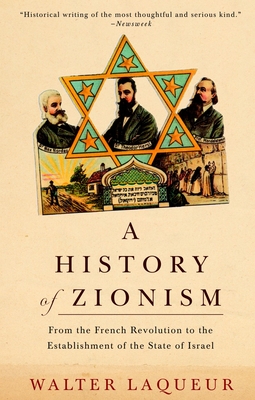 A History of Zionism
From the French Revolution to the Establishment of the State of Israel
Schocken Books, Paperback, 9780805211498, 688pp.
Publication Date: May 20, 2003
* Individual store prices may vary.
Shop Local
Enter your zip code below to find indies closest to you.
Description
The definitive general history of the Zionist movement, by one of the most distinguished historians of our time.
Walter Laqueur traces Zionism from its beginnings--with the emancipation of European Jewry from the ghettos in the wake of the French Revolution--to 1948, when the Zionist dream became a reality. He describes the contributions of such notable figures as Benjamin Disraeli, Moses Hess, Baron Edmond de Rothschild, and Sir Herbert Samuel, and he analyzes the seminal achievements of Theodor Herzl, Chaim Weitzmann, and David Ben Gurion.
Laqueur outlines the differences between the various Zionist philosophies of the early twentieth century--socialist, Communist, revisionist, and cultural utopian--and he discusses both the religious and secular Jewish critics of the movement. He concluded with a dramatic account of the cataclysmic events of World War II, the clandestine immigration of Holocaust survivors, the tragic missed opportunities co-existence with both the Arab residents of Palestine and those in the surrounding countries, and the struggle to forge a new state on an ancient land. Laqueur's new preface analyzes the present-day difficulties, and places them into a fascinating and aluable historical context.
About the Author
WALTER LAQUEUR served as the director of the Institute of Contemporary History in London and concurrently the chairman of the International Research Council of CSIS in Washington for 30 years. He was also a professor at Georgetown University and the author of more than twenty-five books on Europe, Russia, and the Middle East. He has had articles published in "The New York Times, The Washington Post, "and countless other newspapers worldwide. His books include "The Last Days of Europe "and "After the Fall".


Praise For A History of Zionism…
"Historical writing of the most thoughtful and serious kind."
—Newsweek
 
"The best single volume for the general reader."
—The Economist
 
"Laqueur's rigorous objectivity elevates [this book] light-years above its predecessors in the field."
—The New York Times Book Review