Legends of Our Time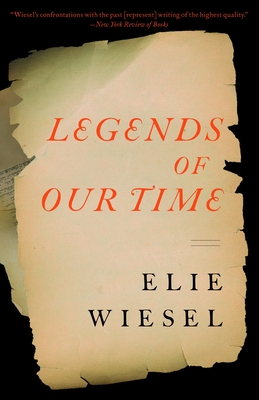 Legends of Our Time
Schocken Books Inc, Paperback, 9780805211757, 208pp.
Publication Date: April 6, 2004
* Individual store prices may vary.
Buy at Local Store
Enter your zip code below to purchase from an indie close to you.
or
Buy Here
Description
As a child in Sighet, as a young boy in Auschwitz, as a teenage displaced person wandering through post-World War II Europe, as a young man at the beginning of his career as a writer, witness, and human-rights activist, Elie Wiesel had haunting, often surreal encounters with a wide range of people--sages, mystics, teachers, and dreamers. In Legends of Our Time, he shares with us some of their stories.
On a Tel Aviv bus, Wiesel encounters a notorious Auschwitz barracks chief who forces him to confront past demons that he thought had long since been laid to rest. While traveling through Spain, he is approached by a young Catholic man holding an ancient family document in an unfamiliar language; written in Hebrew in 1492 by the man's Marrano ancestor, it proudly proclaims to future generations the family's Jewish origins. Twenty years after being deported from Sighet, Wiesel returns to discover that the only thing missing are the towns 10,000 Jews and the collective memory of their ever having existed. In a Moscow synagogue in the fall on 1967, Wiesel finds a sanctuary filled with young Jews who have miraculously educated themselves in their history and ancient language, who sing Hebrew songs in the street as KGB agents take down names. And from a rabbi in Auschwitz who fasted on Yom Kippur, Wiesel leans that there is more than one way to confront a God who seems to have abandoned His people.
About the Author
ELIE WIESEL was fifteen years old when he was deported to Auschwitz. After the war he became a journalist and writer in Paris, and since then has written more than fifty books, both fiction and nonfiction. His masterwork, Night, was a national best seller when it was republished in 2006 in a new English translation. Wiesel has been awarded the United States Congressional Gold Medal, the Presidential Medal of Freedom, the French Legion of Honor's Grand Cross, an honorary knighthood of the British Empire, and, in 1986, the Nobel Peace Prize. Since 1976 he has been the Andrew W. Mellon Professor in the Humanities at Boston University.