What Do You Mean, You Can't Eat in My Home?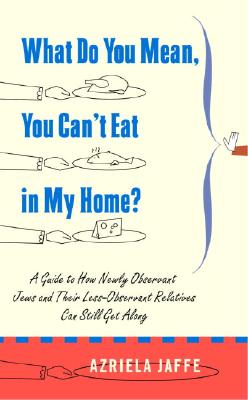 What Do You Mean, You Can't Eat in My Home?
A Guide to How Newly Observant Jews and Their Less Observant Relatives Can Still Ge
Schocken, Hardcover, 9780805242218, 208pp.
Publication Date: September 13, 2005
* Individual store prices may vary.
Buy at Local Store
Enter your zip code below to purchase from an indie close to you.
or
Not Currently Available for Direct Purchase
Description
Here is a book of workable, sensible solutions to the everyday problems faced by newly observant Jews as they try to explain the parameters of their new lives to the people who love them—but think they've gone around the bend.

For the formerly nonobservant Jew who has decided to live an observant life, the most daunting task can be dealing with less-observant loved ones. How can you explain to them what you now feel and believe? How can you continue to be part of the lives of your parents, your siblings and their families, and your in-laws, given how differently you now live your life? In this book, Azriela Jaffe—the observant daughter of less-observant parents—answers these and other pressing questions.

Jaffe discusses how to eat kosher and observe the Sabbath and Jewish holidays in the home of a non-observant relative, and how to host nonobservant relatives in your own home; how to explain the laws of modesty and courtship practices; how to attend family life-cycle events—or explain why you sometimes can't; and how to help your relatives understand the decision to put secular education temporarily aside to attend yeshivah and further your knowledge of Jewish law, rituals, and customs.

Eminently insightful, helpful, and readable, What Do You Mean, You Can't Eat in My Home? will be an invaluable tool in the lives of an ever-increasing number of Jewish families.
About the Author
Azriela Jaffe is the author of twelve previous books, including "Two Jews Can Still Be a Mixed Marriage," which was an alternate selection of the Jewish Book Club. She lives in Highland Park, New Jersey, with her husband and three children, and can be contacted at azjaffe@optonline.net. Visit her on the Web at www.azriela.com.
Praise For What Do You Mean, You Can't Eat in My Home?…
"The subtitle says it all. . . . Through general scenarios, personal reflections, suggestions for defusing tensions, and real answers to real questions, Jaffe encourages readers to treat each other with courage and respect in a way that strengthens the family rather than destroys it."
--Publishers Weekly

"An exquisitely sensitive presentation of the most volatile issues confronted by the newly religious and their parents. Azriela Jaffe speaks straight to the heart of people on both sides of the fence. She is the relaxed and reasonable voice we all hoped would some day write a book on this topic."
--Rabbi Lawrence Kelemen, author of To Kindle a Soul: Ancient Wisdom for Modern Parents and Teachers

"A useful introduction to the problems of maintaining harmonious relationships between the newly observant beginner and his or her family."
--Rabbi Akiva Tatz, author of Living Inspired and Letters to a Buddhist Jew

"A compelling and penetrating explanation of all the Orthodox laws that have ever provoked the ire of non-Orthodox Jews. Proud but non-judgmental, compassionate and fair, Azriela Jaffe points the way to love, respect, and acceptance between newly observant Jews and their less-observant families."
--Rabbi Joseph Telushkin, author of Jewish Literacy and The Book of Jewish Values