Rashi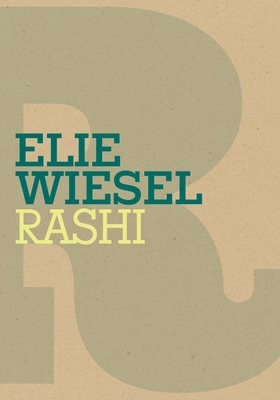 Rashi
A Portrait
Schocken Books Inc, Hardcover, 9780805242546, 107pp.
Publication Date: August 11, 2009
* Individual store prices may vary.
Buy at Local Store
Enter your zip code below to purchase from an indie close to you.
or
Not Currently Available for Direct Purchase
Description
Part of the Jewish Encounter series

From Elie Wiesel, winner of the Nobel Peace Prize, comes a magical book that introduces us to the towering figure of Rashi Rabbi Shlomo Yitzchaki the great biblical and Talmudic commentator of the Middle Ages.
Wiesel brilliantly evokes the world of medieval European Jewry, a world of profound scholars and closed communities ravaged by outbursts of anti-Semitism and decimated by the Crusades. The incomparable scholar Rashi, whose phrase-by-phrase explication of the oral law has been included in every printing of the Talmud since the fifteenth century, was also a spiritual and religious leader: His perspective, encompassing both the mundane and the profound, is timeless.
Wiesel's Rashi is a heartbroken witness to the suffering of his people, and through his responses to major religious questions of the day we see still another side of this greatest of all interpreters of the sacred writings.
Both beginners and advanced students of the Bible rely on Rashi's groundbreaking commentary for simple text explanations and Midrashic interpretations. Wiesel, a descendant of Rashi, proves an incomparable guide who enables us to appreciate both the lucidity of Rashi's writings and the milieu in which they were formed.
About the Author
Elie Wiesel is the author of more than fifty books, including his unforgettable international best-sellers Night and A Beggar in Jerusalem, winner of the Prix Medicis. He has been awarded the Presidential Medal of Freedom, the United States Congressional Gold Medal, and the French Legion of Honor with the rank of Grand Cross. In 1986, he received the Novel Peace Prize. He is Andrew W. Mellon Professor in the Humanities and University Professor at Boston University."
Praise For Rashi…
"Ever since childhood, Rashi has accompanied my with his insights and charm. Ever since my first Bible lessons in the Heder, I have turned to him in order to grasp the meaning of a verse or word that seemed obscure.

"He is my first destination. My first aid. The first friend whose assistance is invaluable to us, not to say indispensable, if we've set our heart on pursuing a thought through unfamiliar subterranean passageways, to its distant origins. A veiled reference from him, like a smile, and everything lights up and becomes clearer.

"Of course, it is the Jewish child in me who thanks him. But Rashi's appeal is addressed to everyone. What I mean is this: his passion for delving in a text into order to find a hidden meaning passed on by generations can move, interest, and enrich all those whose life is governed by study."

—FROM THE PREFACE

"Wiesel's contribution to the Jewish Encounters series is an informative gem."
–Ray Olson, Booklist