Holman Guide to Interpreting the Bible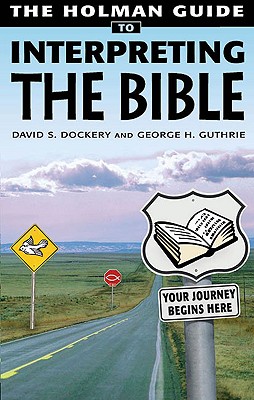 Holman Guide to Interpreting the Bible
How Do You Handle a Sharper Than Sharp Two-Edged Sword? Very Carefully
Holman Reference, Paperback, 9780805428582, 104pp.
Publication Date: May 2004
* Individual store prices may vary.
Shop Local
Enter your zip code below to find indies closest to you.
Description
David Dockery and George Guthrie set forth the basics of interpreting, applying, and communicating the Word of God in teaching and preaching. The heart of the book is a mentoring session with Dockery and Guthrie. It's as if they are at the table with you showing you the steps to interpretation, applying it to Philippians 2:5-11. They have summarized the steps to interpretation in a chart that will be useful every time you prepare a lesson or sermon. And, you will find helpful workbook features for hands on experience
About the Author
David S. Dockery is president of Trinity International University in Deerfield, Illinois. He previously served as president of Union University. He is the author or editor of over ten books, including "Biblical Interpretation Then and Now".

George H. Guthrie (PhD, Southwestern Baptist Theological Seminary) is Benjamin W. Perry Professor of Bible at Union University in Jackson, Tennessee. He is the author of numerous books and articles, including commentaries on Hebrews and James, and was a translator or consultant on four Bible translation projects. Guthrie is currently spearheading a biblical literacy effort to help churches train their members more effectively in reading the Bible well.