American Commencement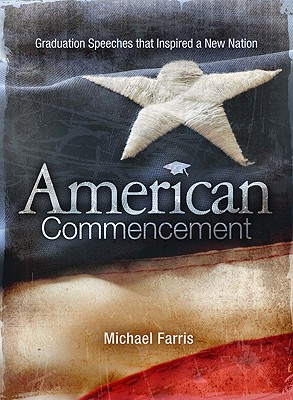 American Commencement
Graduation Speeches That Inspired a New Nation
B&H Publishing Group, Paperback, 9780805430714, 156pp.
Publication Date: April 1, 2011
* Individual store prices may vary.
Not Currently Available for Direct Purchase
or
Shop Local
Enter your zip code below to purchase from an indie close to you.
Description
For graduates whose foremost question is likely, "What comes next?" esteemed educator and constitutional lawyer Michael Farris gathers historic commencement speeches from the early days of America, an era marked by great dreams and much uncertainty.
"I believe that these speeches possess timeless qualities. And there is absolutely no doubt that America needs future leaders whose character and convictions parallel those of these early American graduates," writes Farris in American Commencement.
Farris adds an introduction to each of these seventeen speeches plus a biography for every speaker. They include:
Samuel Davies: "Heroes Who Inspire"
John Witherspoon: "Principles of Greatness"
Chauncey Whittlesey: "Sowing and Reaping"
William Smith: "Consecrated to God"
Barnabas Binney: "On Religious Liberty"
John Wheelock: "The Value of Art"
Josiah Stebbins: "The Importance of Character"
Paul Allen: "The Call to Patriotism"
Benjamin Allen: "Battle for Truth"
Timothy Dwight: "The Folly of Intellectualism"
David Tappan: "A Discourse on Liberty"
Jonathan Maxcy: "Attack on Atheism"
Otis Thompson: "On Religion and Government"
Asa Messer: "In Defense of the Bible"
Jedidiah Morse: "A Faithful Guide"
Ebenezer Fitch: "Truth versus Reason"
Tristam Burges: "A Time to Fight.
About the Author
Michael Farris has the experience needed for a book of this kind--he's the father of six daughters and four sons! President of Patrick Henry College, a constitutional lawyer, and chairman of the Home School Legal Defense Association, he counsels men and women across the nation on parenting issues. The Farris family lives in Virginia.