To Live Is Christ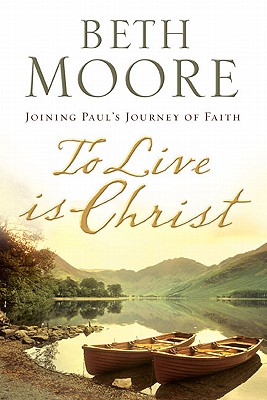 To Live Is Christ
Joining Paul's Journey of Faith
B&H Publishing Group, Hardcover, 9780805445619, 319pp.
Publication Date: March 1, 2008
* Individual store prices may vary.
Buy Now
or
Shop Local
Enter your zip code below to purchase from an indie close to you.
Description
In "To Live Is Christ," best-selling author Beth Moore travels on a spiritual odyssey through the life of one of Christianity's most fervent journeymen, the apostle Paul, tracing his story from childhood to martyrdom.
Proclaiming his faith as a benchmark in New Testament Scripture, Beth writes, "I have accepted many of Paul's words as a personal challenge. I want to know Christ has become my plea. To live is Christ and to die is gain has become my hope. And to borrow his words once more, Not that I have already obtained all this . . . but I press on. "
Paul's undying passion for Christ continues to inspire and challenge those with a deep spiritual hunger for the things of God. Readers will be greatly refreshed by the obvious mercy of God that causes those who have failed him to repent and serve him wholeheartedly and effectively.
About the Author
Beth Moore is a teacher and writer of bestselling books and Bible studies whose public speaking engagements carry her all over the United States and the world. A dedicated wife, mother of two, and happy grandmother to two, Mooreleads Living Proof Ministries.