Future Israel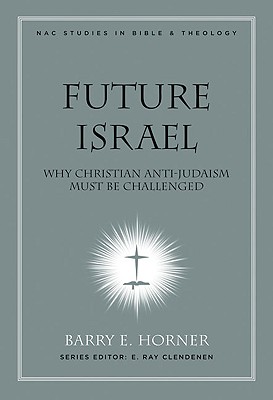 Future Israel
Why Christian Anti-Judaism Must Be Challenged
B&H Publishing Group, Hardcover, 9780805446272, 394pp.
Publication Date: October 1, 2007
* Individual store prices may vary.
Buy Now
or
Shop Local
Enter your zip code below to purchase from an indie close to you.
Description
"
Future Israel: Why Christian Anti-Judaism Must Be Challenged "is volume three in the NEW AMERICAN COMMENTARY STUDIES IN BIBLE & THEOLOGY (NACSBT) series for pastors, advanced Bible students, and other deeply committed laypersons.
Author Barry E. Horner writes to persuade readers concerning the divine validity of the Jew today (based on Romans 11:28), as well as the nation of Israel and the land of Palestine, in the midst of this much debated issue within Christendom at various levels. He examines the Bible's consistent pro-Judaic direction, namely a Judeo-centric eschatology that is a unifying feature throughout Scripture.
Not sensationalist like many other writings on this constantly debated topic, "Future Israel "is instead notably exegetical and theological in its argumentation. Users will find this an excellent extension of the long-respected NEW AMERICAN COMMENTARY.
About the Author
Barry E. Horner is pastor of Christ's New Covenant Church in Tucson, Arizona, and maintains a Web site devoted to the study of John Bunyan. He holds degrees from George Fox University (B.A.), Western Conservative Baptist Theological Seminary (M.Div.), and Westminster Theological Seminary (D.Min.).

E. RAY CLENDENEN office, 615-251-2400 cell, 615-428-1854 ray.clendenen@lifeway.com Education Ph.D. 1989, University of Texas at Arlington in Humanities, concentration in Linguistics (secondary area, Ancient Greek history and culture). Doctoral study in Old Testament, 1983-84, Dallas Theological Seminary. M.A. in Biblical Studies, 1982, Dropsie College of Hebrew and Cognate Learning. Th.M. in Semitics and Old Testament, 1975, Dallas Theological Seminary. B.A. in Anthropology, 1971, Rice University. Professional Experience Senior editor, Bible & Reference area, B&H Publishing, 2010 . Senior editor, Academic books, B&H Publishing, 2006 2010. Adjunct professor of Hebrew and Old Testament, Golden Gate Baptist Theological Seminary, 2011 . Adjunct professor of Hebrew and Old Testament, Southeastern Baptist Theological Seminary, 2010. Proposal evaluation committee member for Old Testament, ETS, 2012 . Steering committee member, ETS Biblical Hebrew Language & Exegesis Consultation, 2009 . Editorial supervisor, Bible, Academic, and Reference Book Department, B&H, August, 1997 2006. General editor, New American Commentary, Broadman & Holman Publishers/Baptist Sunday School Board, 1992 present. Associate general editor, Holman Christian Standard Bible translation, 1998 2004 Adjunct professor of Hebrew and Old Testament, Southern Baptist Theological Seminary, 1993 2004. Professor (and eventual department head) of Old Testament and Hebrew, Criswell College, 1982-92. Instructor in Bible, Philadelphia College of Bible, 1979-82. Pastor, Rozetta Baptist Church, Little York, IL, 1975-78. Publications General editor, The New American Commentary. Series editor, NAC Studies in Bible and Theology. Widows and Orphans in the Old Testament, "Biblical Illustrator, " forthcoming. Salvation by Faith or by Faithfulness in the Book of Habakkuk? "Bulletin of Biblical Research, " forthcoming. A Passionate Prophet: Reading Emotions in the Book of Malachi, "Bulletin of Biblical Research"23.2 (2013): 207 21. The Message and Purpose of the Book of Job, "Biblical Illustrator" 39.4 (2013): 22 25. The Holman Christian Standard Bible (HCSB) in "Which Bible Translation Should I Use?" ed. Andreas J. Kostenberger and David A. Croteau (Nashville: B&H, 2012)."The HCSB: Navigating the Horizons in Bible Translation. "(Nashville: B&H, 2012). An Overview of Malachi, "Biblical Illustrator" 38.4 (2012): 22 26."Bibliography for Old Testament Studies." Self-published on academia.edu Associate editor, "The HCSB Study Bible" (B&H, 2010). Eternal Punishment: The Biblical Evidence, "Areopagus Journal" 8.5 (Sept/Oct, 2008): 8 16."Calvinism: A Southern Baptist Dialogue", ed. E. Ray Clendenen and Brad J. Waggoner (B&H, 2008). Associate editor, "The Apologetics Study Bible", 2007."Malachi, " New American Commentary vol. 21A (B&H, 2004) (with "Haggai" by R. A. Taylor). Associate editor, "Holman Illustrated Bible Dictionary" (Broadman & Holman, 2003). Textlinguistics and the Book of the Twelve, "Journal of the Evangelical Theological Society" (2003): 385 99. The Minor Prophets, in "The Concise Holman Bible Commentary, " ed. D. Dockery. B&H, 1998. Interpreting the Minor Prophets for Preaching, "Faith and Mission "13 (1995): 54 69. Religious Background for the Old Testament, in "Foundations for Biblical Interpretation, "ed. D. Dockery, K. Mathews, R. Sloan, Broadman & Holman, 1994. Postholes, Postmodernism, and the Prophets in "The Challenges of Postmodernism, " ed. D. Dockery, Bridgepoint, 1994. Old Testament Prophets as Hortatory: Examples from Malachi, "Journal of Textlinguistics and Translation, " 6 (1993): 336 41. Old Testament editor, "Believer s Study Bible". Nelson, 1991. Articles in" The Holman Bible Handbook, " edited by David Dockery. Broadman, 1992 [reprint edition 1999]. Life in God s Land: An Outline of the Theology of Deuteronomy. In" The Church at the Dawn of the 21st Century, " ed. Paige Patterson, et al. Dallas: Criswell Publications, 1989. Discourse Strategies in Jeremiah 10, " Journal of Biblical Literature "(Sept. 1988): 401-8. The Structure of Malachi: A Textlinguistic Study, "Criswell Theological Review "2 (1987): 3-17. Won by the Baptists, Caught by the Cults, " Shophar "7 (Spring, 1983): 17-20.