Renewing Minds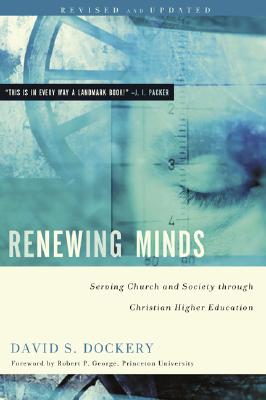 Renewing Minds
Serving Church and Society Through Christian Higher Education, Revised and Updated
B&H Publishing Group, Paperback, 9780805447880, 304pp.
Publication Date: April 2008
* Individual store prices may vary.
Buy Now
or
Shop Local
Enter your zip code below to purchase from an indie close to you.
Description
"Be transformed by the renewing of your mind, so that you may discern what is the good, pleasing, and perfect will of God." (Romans 12:2)
"Renewing Minds "serves as a clear introduction to the field of higher Christian education, focusing on the distinctive, important role of Christian-influenced learning both in the Kingdom of God and in the academic world.
Union University president David S. Dockery writes for administrators, trustees, church leaders, faculty, and staff who are just beginning their service or association with a Christ-centered institution, and also to students and parents who are considering a Christian college or university.
Chapters include: "Loving God with Our Minds," "Renewing Minds, Serving Church and Society," "Shaping a Christian Worldview," "Reclaiming the Christian Intellectual Tradition," "Integrating Faith and Learning," "Envisioning a Shared Community of Tradition, Belonging, and Renewing Minds," "Establishing a Grace-Filled Academic Community," "Developing a Theology for Christian Higher Education," and "Thinking Globally about the Future."
New source information and footnotes have been added to this second edition. While the chapters still reflect their original shape as formal addresses given in various settings, this revised and updated edition formats the book in a way that is more consistent with academic rather than popular expectations.
About the Author
David S. Dockery is president of Trinity International University in Deerfield, Illinois. He previously served as president of Union University. He is the author or editor of over ten books, including "Biblical Interpretation Then and Now".