Calvinism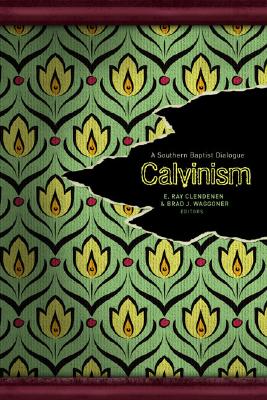 Calvinism
A Southern Baptist Dialogue
B&H Publishing Group, Paperback, 9780805448351, 303pp.
Publication Date: June 1, 2008
* Individual store prices may vary.
Not Currently Available for Direct Purchase
or
Shop Local
Enter your zip code below to purchase from an indie close to you.
Description
What impact is the Calvinist/non-Calvinist debate having on the Southern Baptist Convention today? This book holds a theological conversation between followers of Christ about issues on which they often disagree. And while such controversial points of doctrine cannot be ignored, neither should they put up impenetrable walls between groups that are committed to the same essential Christian beliefs.
Calvinism: A Southern Baptist Dialogue brings together new presentations from noted Southern Baptists including Daniel Akin, Tom Ascol, David Dockery, Charles Lawless, and Ed Stetzer that address misperceptions, stereotypes, and caricatures of the debate over Reformed theology. Each strives to speak the truth in love and humility while seeking clarity in the presentation of the Gospel, improving the health of our churches, and seeking the kingdom of Christ above all.
Endorsements:
"What do we have to agree on? The doctrines of what it means for us to be lost, and of how we are saved could not be more important. This book explores how much we can disagree over these things and still work together. If you care about both evangelistic cooperation and doctrinal integrity, this book is a book for you."
Mark Dever, pastor, Capitol Hill Baptist Church and president of 9Marks.org.
About the Author
E. RAY CLENDENEN office, 615-251-2400 cell, 615-428-1854 ray.clendenen@lifeway.com Education Ph.D. 1989, University of Texas at Arlington in Humanities, concentration in Linguistics (secondary area, Ancient Greek history and culture). Doctoral study in Old Testament, 1983-84, Dallas Theological Seminary. M.A. in Biblical Studies, 1982, Dropsie College of Hebrew and Cognate Learning. Th.M. in Semitics and Old Testament, 1975, Dallas Theological Seminary. B.A. in Anthropology, 1971, Rice University. Professional Experience Senior editor, Bible & Reference area, B&H Publishing, 2010 . Senior editor, Academic books, B&H Publishing, 2006 2010. Adjunct professor of Hebrew and Old Testament, Golden Gate Baptist Theological Seminary, 2011 . Adjunct professor of Hebrew and Old Testament, Southeastern Baptist Theological Seminary, 2010. Proposal evaluation committee member for Old Testament, ETS, 2012 . Steering committee member, ETS Biblical Hebrew Language & Exegesis Consultation, 2009 . Editorial supervisor, Bible, Academic, and Reference Book Department, B&H, August, 1997 2006. General editor, New American Commentary, Broadman & Holman Publishers/Baptist Sunday School Board, 1992 present. Associate general editor, Holman Christian Standard Bible translation, 1998 2004 Adjunct professor of Hebrew and Old Testament, Southern Baptist Theological Seminary, 1993 2004. Professor (and eventual department head) of Old Testament and Hebrew, Criswell College, 1982-92. Instructor in Bible, Philadelphia College of Bible, 1979-82. Pastor, Rozetta Baptist Church, Little York, IL, 1975-78. Publications General editor, The New American Commentary. Series editor, NAC Studies in Bible and Theology. Widows and Orphans in the Old Testament, "Biblical Illustrator, " forthcoming. Salvation by Faith or by Faithfulness in the Book of Habakkuk? "Bulletin of Biblical Research, " forthcoming. A Passionate Prophet: Reading Emotions in the Book of Malachi, "Bulletin of Biblical Research"23.2 (2013): 207 21. The Message and Purpose of the Book of Job, "Biblical Illustrator" 39.4 (2013): 22 25. The Holman Christian Standard Bible (HCSB) in "Which Bible Translation Should I Use?" ed. Andreas J. Kostenberger and David A. Croteau (Nashville: B&H, 2012)."The HCSB: Navigating the Horizons in Bible Translation. "(Nashville: B&H, 2012). An Overview of Malachi, "Biblical Illustrator" 38.4 (2012): 22 26."Bibliography for Old Testament Studies." Self-published on academia.edu Associate editor, "The HCSB Study Bible" (B&H, 2010). Eternal Punishment: The Biblical Evidence, "Areopagus Journal" 8.5 (Sept/Oct, 2008): 8 16."Calvinism: A Southern Baptist Dialogue", ed. E. Ray Clendenen and Brad J. Waggoner (B&H, 2008). Associate editor, "The Apologetics Study Bible", 2007."Malachi, " New American Commentary vol. 21A (B&H, 2004) (with "Haggai" by R. A. Taylor). Associate editor, "Holman Illustrated Bible Dictionary" (Broadman & Holman, 2003). Textlinguistics and the Book of the Twelve, "Journal of the Evangelical Theological Society" (2003): 385 99. The Minor Prophets, in "The Concise Holman Bible Commentary, " ed. D. Dockery. B&H, 1998. Interpreting the Minor Prophets for Preaching, "Faith and Mission "13 (1995): 54 69. Religious Background for the Old Testament, in "Foundations for Biblical Interpretation, "ed. D. Dockery, K. Mathews, R. Sloan, Broadman & Holman, 1994. Postholes, Postmodernism, and the Prophets in "The Challenges of Postmodernism, " ed. D. Dockery, Bridgepoint, 1994. Old Testament Prophets as Hortatory: Examples from Malachi, "Journal of Textlinguistics and Translation, " 6 (1993): 336 41. Old Testament editor, "Believer s Study Bible". Nelson, 1991. Articles in" The Holman Bible Handbook, " edited by David Dockery. Broadman, 1992 [reprint edition 1999]. Life in God s Land: An Outline of the Theology of Deuteronomy. In" The Church at the Dawn of the 21st Century, " ed. Paige Patterson, et al. Dallas: Criswell Publications, 1989. Discourse Strategies in Jeremiah 10, " Journal of Biblical Literature "(Sept. 1988): 401-8. The Structure of Malachi: A Textlinguistic Study, "Criswell Theological Review "2 (1987): 3-17. Won by the Baptists, Caught by the Cults, " Shophar "7 (Spring, 1983): 17-20.

Brad J. Waggoner is president and publisher of B&H Publishing Group. A former dean of the School of Leadership & Church Ministry at Southern Seminary, he holds a Master of Arts degree from Trinity Evangelical Divinity School and a Master of Religious Education degree and Ph.D. from Southwestern Baptist Theological Seminary. He is also the co-editor of "Calvinism: A Southern Baptist Dialogue". Waggoner and his wife have two sons and live in Nashville, Tennessee.