Sgt. York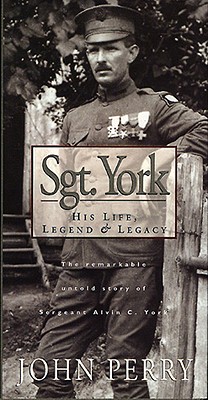 Sgt. York
His Life, Legend & Legacy: The Remarkable Untold Story of Sgt. Alvin C. York
B&H Publishing Group, Hardcover, 9780805460742, 320pp.
Publication Date: September 15, 1997
* Individual store prices may vary.
Buy Now
or
Shop Local
Enter your zip code below to purchase from an indie close to you.
Description
In a world desperate for authentic heroes, the story of Alvin C. York reminds us of the true meaning of heroism. York's bravery on the battlefield made him famous, but it was his decision to turn down the easy riches of celebrity that secured his position as one of history's greatest Christian patriots. Based on new interviews with all of York's living children, and York's own diaries, this exhaustive biography follows the young soldier from the hills of Tennessee to the battlefields of France, down Broadway in a triumphant ticker-tape parade, and back home to his family farm where he spent the rest of his life in service to his community and his God.
About the Author
The late Bertrand Russell, English philosopher and mathematician, was a Fellow of Trinity College, Cambridge University, where he taught for many years. He also lectured widely in the United States. Winner of the 1950 Nobel Prize for Literature, he is the author of many books including the
influential Principia Mathematica, with Alfred North Whitehead, and The Autobiography of Bertrand Russell 1872-1967, published in three volumes.
John Perry is H.W. Stuart Professor of Philosophy at Stanford University and co-editor of Oxford's Introduction to Philosophy, Second Edition.