The Conquest of America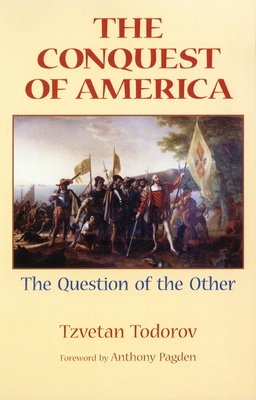 The Conquest of America
The Question of the Other
University of Oklahoma Press, Paperback, 9780806131375, 288pp.
Publication Date: March 15, 1999
* Individual store prices may vary.
Buy at Local Store
Enter your zip code below to purchase from an indie close to you.
or
Buy Here
Description
"The Conquest of America" is a fascinating study of cultural confrontation in the New World, with implications far beyond sixteenth-century America. The book offers an original interpretation of the Spaniards conquest, colonization, and destruction of pre-Columbian cultures in Mexico and the Caribbean. Using sixteenth-century sources, the distinguished French writer and critic Tzvetan Todorov examines the beliefs and behavior of the Spanish conquistadors and of the Aztecs, adversaries in a clash of cultures that resulted in the near extermination of Mesoamerica's Indian population.
About the Author
Tzvetan Todorov is Research Director of the Centre National de la Recherche Scientifique in Paris and the author of many books, including "The Conquest of America, On Human Diversity, The Morals of History, Facing the Extreme", and "The Fragility of Goodness" (Princeton). He writes regularly for the "New Republic, Salmagundi", and other publications.

Brassai (born Gyula Halasz, 1899-1984) was a photographer, journalist, and author of photographic monographs and literary works, including "Letters to My Parents" and "Conversations with Picasso," both published by the University of Chicago Press.
Richard Howard, a professor at the School of the Arts at Columbia University, is an award-winning poet and translator. His translations include books by Gide, Cocteau, Giraudoux, De Beauvoir, Barthes, Cioran, and Proust, and Baudelaire's "Fleurs du Mal," for which he received the American Book Award.

Anthony Pagden is Distinguished Professor in the Departments of Political Science and History at the University of California, Los Angeles. He has been a Fellow of Merton College, Oxford; Senior Research Fellow of the Warburg Institute, London; Professor of History at the European University Institute, Florence; University Reader in Intellectual History and Fellow of King's College, Cambridge; and the Harry C. Black Professor of History at The Johns Hopkins University. He is the author of more than a dozen books, many of which have been translated into a number of European and Asian languages. His most recent publications include Worlds and War: The 2,500-Year Struggle between East and West (2008) and The Enlightenment: And Why It Still Matters (2013). He has also written for the New Republic, the National Interest, the New York Times, the Los Angeles Times, El Pais (Spain), Il Sole 24 Ore (Italy), the London Review of Books and the Times Literary Supplement.