Love You to Pieces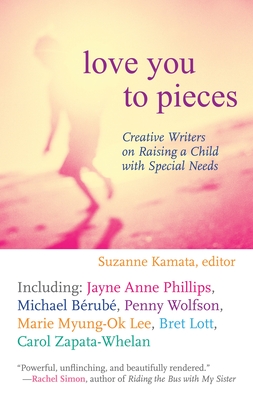 Love You to Pieces
Creative Writers on Raising a Child with Specialneeds
Beacon Press (MA), Paperback, 9780807000304, 256pp.
Publication Date: May 1, 2008
* Individual store prices may vary.
Buy at Local Store
Enter your zip code below to purchase from an indie close to you.
or
Buy Here
Description
The first collection of literary writing on raising a child with special needs, Love You to Pieces features families coping with autism, deafness, muscular dystrophy, Down syndrome and more. Here, poets, memoirists, and fiction writers paint beautiful, wrenchingly honest portraits of caring for their children, laying bare the moments of rage, disappointment, and guilt that can color their relationships. Parent-child communication can be a challenge at the best of times, but in this collection we witness the struggles and triumphs of those who speak their own language-or don't speak at all-and those who love them deeply.
About the Author
Back in the day, Suzanne Kamata spent a lot of time hanging out in a club in Columbia, South Carolina, much like the one in "Screaming Divas". (The beat goes on . . .) She later wrote about musicians for "The State" newspaper, "The Japan Times", and other publications. Now, she mostly writes novels. In her free time, she enjoys searching for the perfect fake fur leopard-print coat and listening to the Japanese all-girl band Chatmonchy.
Praise For Love You to Pieces…
Powerful, unflinching, and beautifully rendered, Love You to Pieces is not just an anthology about raising children with special needs, but true literature. Through a combination of fiction, poetry, and memoir—some by renowned authors, others by emerging writers, every piece saturated with hard-won firsthand insight—the loving parents in these pages speak honestly and artfully about every stage of their experience, from the birth of a child with special needs to the arrival of grandchildren. Readers who also wear these shoes will find deep, moving depictions of a reality they know so well. Those with no knowledge of this world will find a literary experience they'll never forget. —Rachel Simon, author of Riding the Bus with My Sister: A True Life Journey

"Love You To Pieces is a unique reading experience: raw, moving, provocative and compelling. The stories are beautifully told, from many different backgrounds and perspectives, but taken together share a common and ultimately triumphant connecting thread: love conquers all."—Daniel Tammet, author of Born On A Blue Day: Inside the Extraordinary Mind of an Autistic Savant

"Love You to Pieces is groundbreaking. Our public discourse about disability is dominated by the voices of medical professionals and fix your child tomes. These stories elevate the experience of people with disabilities to the level of literature. It is a must buy book for anyone who parents, educates, or supports young people with disabilities.—Jonathan Mooney, author of The Short Bus: A Journey Beyond Normal