The Trumpet of Conscience [With CD (Audio)]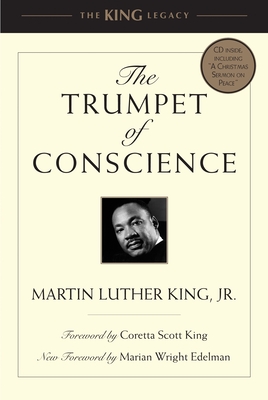 The Trumpet of Conscience [With CD (Audio)]
Beacon Press (MA), Hardcover, 9780807000717, 80pp.
Publication Date: October 26, 2010
* Individual store prices may vary.
Not Currently Available for Direct Purchase
or
Shop Local
Enter your zip code below to purchase from an indie close to you.
Description
In November and December 1967, Dr. Martin Luther King, Jr., delivered five lectures for the renowned Massey Lecture Series of the Canadian Broadcasting Corporation. The collection was immediately released as a book under the title "Conscience for Change, " but after King's assassination in 1968, it was republished as"The Trumpet of Conscience." The collection sums up his lasting creed and is his final testament on racism, poverty, and war.
Each oration in this volume encompasses a distinct theme and speaks prophetically to today's perils, addressing issues of equality, conscience and war, the mobilization of young people, and nonviolence. Collectively, they reveal some of King's most introspective reflections and final impressions of the movement while illustrating how he never lost sight of our shared goals for justice. The book concludes with A Christmas Sermon on Peace a powerful lecture that was broadcast live from Ebenezer Baptist Church on Christmas Eve in 1967. In it King articulates his long-term vision of nonviolence as a path to world peace.
About the Author
Martin Luther King, Jr. (January 15, 1929 - April 4, 1968) was a famous leader of the American civil rights movement, a political activist, and a Baptist minister. In 1964, King became the youngest man to be awarded the Nobel Peace Prize for his work as a peacemaker, promoting nonviolence and equal treatment for different races. On April 4, 1968, Dr. King was assassinated in Memphis, Tennessee. In 1977, he was posthumously awarded the Presidential Medal of Freedom by Jimmy Carter. In 1986, Martin Luther King Day was established as a United States holiday. Dr. King often called for personal responsibility in fostering world peace.King's most influential and well-known public address is the "I Have A Dream" speech, delivered on the steps of the Lincoln Memorial in Washington, D.C.

Coretta Scott King (19272006), the wife of Martin Luther King, Jr., was an American author and human rights activist. She helped lead the civil rights movement after Kings assassination, carrying the message of nonviolence and the dream of a beloved community to many countries, and spearheading coalitions and foundations.

Founder and president, Children s Defense Fund