From the Closet to the Courtroom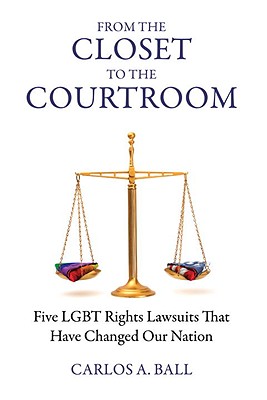 From the Closet to the Courtroom
Five LGBT Rights Lawsuits That Have Changed Our Nation
Beacon Press, Hardcover, 9780807000786, 296pp.
Publication Date: June 1, 2010
* Individual store prices may vary.
Buy at Local Store
Enter your zip code below to purchase from an indie close to you.
or
Not Currently Available for Direct Purchase
Description
The advancement of LGBT rights has occurred through struggles large and small-on the streets, around kitchen tables, and on the Web. Lawsuits have also played a vital role in propelling the movement forward, and behind every case is a human story: a landlord in New York seeks to evict a gay man from his home after his partner of ten years dies of AIDS; school officials in Wisconsin look the other way as a gay teenager is repeatedly and viciously harassed by other students; a lesbian couple appears unexpectedly at a clerk's office in Hawaii seeking a marriage license.

Engaging and largely untold, From the Closet to the Courtroom explores how five pivotal lawsuits have altered LGBT history. Beginning each case narrative at the center-with the litigants and their lawyers-law professor Carlos Ball follows the stories behind each crucial lawsuit. He traces the parties from their communities to the courtroom, while deftly weaving in rich sociohistorical context and analyzing the lasting legal and political impact of each judicial outcome.

Over the last twenty years, no group of attorneys has helped to transform this country more than LGBT rights lawyers, and surprisingly, their collective accomplishments have received relatively little attention. Ball remedies that by exploring how a band of largely unheralded civil rights lawyers have attained remarkable legal victories through skill, creativity, and perseverance.

In this richly layered and multifaceted account, Ball vividly documents how these judicial victories have significantly altered LGBT lives today in ways that were unimaginable only a generation ago.
About the Author
Carlos A. Ball is professor of law at the Rutgers Uni-versity School of Law (Newark). He has written exten-sively on LGBT rights issues, is the author of "The Morality of Gay Rights," and has received a Dukeminier Award from UCLA's Williams Institute for excellence in sexual orientation and the law scholarship.""He lives with his family in Brooklyn, New York.
Praise For From the Closet to the Courtroom…
"We owe Carlos Ball a debt for his uniquely illuminating account of gay rights litigation. He is a balladeer of the hitherto unsung heroes who litigated the major gay rights cases as well as a legal expert who is instinctively alert to law's reasons and contingencies. Perhaps only Ball could have given us a book on this topic that so delights and instructs."—Kenji Yoshino, Chief Justice Earl Warren Professor of Constitutional Law, New York University School of Law

"A prolific author and eminent legal scholar, Carlos Ball deftly and accessibly tells the rich and fascinating stories about the clients and lawyers whose cases have transformed LGBT life in the United States. Timely and deeply relevant, From the Closet to the Courtroom is a powerful testament to the role our lawyers and courts can play in creating social change."—Nancy D. Polikoff, Professor of Law, Washington College of Law, and author of Beyond (Straight and Gay) Marriage

"A timely chronicle of how key legal battles reflect and raise the visibility of sexual minorities and compel society to take seriously their claims to equal citizenship. By revealing the people and stories behind some of the most far-reaching court cases in the history of the LGBT rights struggle, it brings alive the impact of litigation."—Nathaniel Frank, senior research fellow at the Palm Center, University of California-Santa Barbara, and author of Unfriendly Fire: How the Gay Ban Undermines the Military and Weakens America

"This powerful book is a long-overdue tribute to the lawyers and activists whose work has changed many lives and resulted in landmark legal victories. Professor Ball dramatically resurrects each case, bringing together opposing attorneys and litigants to show how ordinary human conflict can translate to extraordinary civil rights gain. This groundbreaking book is crucial if we are to understand the history of the rights we take for granted, achieved by those who accomplished much, and against such tremendous odds."—Mary Bonauto, Civil Rights Project director for GLAD, Gay & Lesbian Advocates & Defenders

"From the Closet to the Courtroom deftly interweaves personal histories with accessible explanations of legal terminology…Carlos Ball's careful account is valuable not only for its legal lessons but for its human stories."—The Gay & Lesbian Review