The Odd Clauses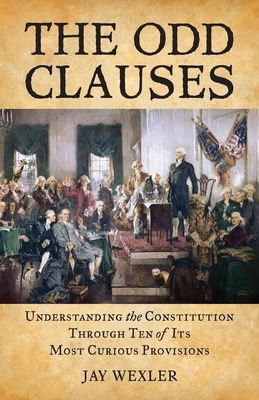 The Odd Clauses
Understanding the Constitution Through Ten of Its Most Curious Provisions
Beacon Press (MA), Paperback, 9780807000892, 222pp.
Publication Date: September 4, 2012
* Individual store prices may vary.
Buy at Local Store
Enter your zip code below to purchase from an indie close to you.
or
Buy Here
Description
An innovative, insightful, often humorous look at the Constitution''s lesser-known clauses, offering a fresh perspective on the document's relevance today
 
For a variety of reasons, many of the Constitution's more obscure passages never make it to any court and therefore never make headlines or even law school classrooms, which teach from judicial decisions. In this captivating and witty book, Jay Wexler draws on his extensive professional and educational backgrounds in constitutional law to demonstrate how these "odd clauses" have incredible relevance to our lives, our government's structure, and the integrity of our democracy.
About the Author
Jay Wexler is a law professor at Boston University and the author of two non-fiction books that combine legal analysis and humor - Holy Hullabaloos: A Road Trip to the Battlegrounds of the Church/State Wars, which Publisher's Weekly said in its starred review was "laugh out loud funny," and The Odd Clauses: Understanding the Constitution Through Ten of Its Most Curious Provisions.
Praise For The Odd Clauses…
"I love this book. It is, believe it or not, an utterly entertaining constitutional law book. I am blown away by Wexler's comedic skills and his ability to make the usually dry subject matter so funny and readable."—Gary Gulman, Finalist, Last Comic Standing and Guest, Late Night With David Letterman and The Tonight Show

"In Holy Hullabaloos, Jay Wexler took us along on what he called a "road trip" to some of the most important places connected to the First Amendment's religion clauses. This time, in The Odd Clauses, Wexler exits off the highway to take us on a tour of some back roads of constitutional law: places scholars and the public seldom visit like the Bill of Attainder Clause or the Third Amendment (which prohibits quartering of troops in private houses during peacetime, in case you didn't know.) The result is magical: you'll have so much fun reading about these unsung constitutional provisions that you won't realize until the trip is over how much you've learned."— Pamela S. Karlan, Kenneth and Harle Montgomery Professor of Public Interest Law

"The book provides a fresh vantage point from which to consider the Constitution."—Choice Magazine

"Professor Wexler dispenses his expertise on the Constitution with a light touch, imparting many lasting insights and a few belly laughs along the way. What a delight to discover that our founding document is not only brilliant, but brilliantly weird."—Ben H. Winters, author of Sense and Sensibility and Sea Monsters

"A know-it-all's treasure trove, a cabinet of constitutional curiosities, The Odd Clauses touches down on NASA, Ellis Island, even Saturday Night Live. Jay Wexler is brilliantly snarky, erudite and comedic."—Julianna Baggott, author of Girl Talk and Pure

"The maniacs who run the modern American political process seem determined to reduce our Constitution to a electoral fetish object. Thank God, then, that we have Jay Wexler, whose wise and funny treatise reminds us that the Constitution is, like the men who drafted it, brilliant but imperfect. I learned more reading this book than in my entire college career. This isn't saying much given my college career, I realize. But I now plan to attend law school. It's that good."—Steve Almond, author of Candyfreak and God Bless America