Letters from Black America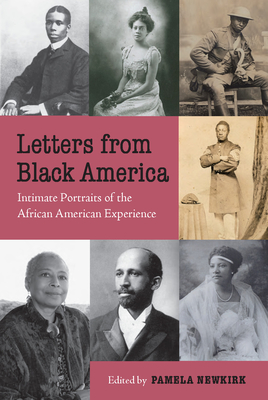 Letters from Black America
Intimate Portraits of the African American Experience
Beacon Press (MA), Paperback, 9780807001158, 372pp.
Publication Date: January 11, 2011
* Individual store prices may vary.
Buy at Local Store
Enter your zip code below to purchase from an indie close to you.
or
Buy Here
Description
The first-ever narrative history of African Americans told through their own letters
 
Letters from Black America fills a literary and historical void by presenting the spectrum of African American experience in the most intimate way possible—through the heartfelt correspondence of those who lived through monumental changes and pivotal events, from the American Revolution to the war in Iraq, from slavery to the election of Obama.
About the Author
Pamela Newkirk is an award-winning journalist and a professor of journalism at New York University. She is the author of Within the Veil: Black Journalists, White Media, which won the National Press Club Award for media criticism, and the editor of Letters from Black America. She lives in New York City.
Praise For Letters from Black America…
"As the country enters a fresh atmosphere around our latest president, Letters from Black America strikes a vital, rich chord in which to breathe the new air."—Karen Long, Cleveland Plain Dealer
 
"While this unique collection of letters represents a frank depiction of the black experience, the great achievement is that these writings often go far beyond race and class to simply tell the story of the human experience in America."—Allen McGinley, Library Journal, starred review
 
"A rich array of 'linguistic snapshots,' more than 200 letters that range from a slave writing his wife on the eve of being sold to Martin Luther King, Jr.'s 'Letter from Birmingham Jail.'"—Bob Minzesheimer, USA Today
 
"Letters from Black America is itself a work of art."—Andrew Carroll, editor of Letters of a Nation and War Letters
 
"An extraordinary peek at what went on behind the closed doors of black America for nearly three hundred years. Notables are reduced to human beings, and the anonymous come to life. These extraordinary snapshots of the past will provide hours of informative pleasure and delightful reading. Wonderfully done." —James McBride, author of The Color of Water
 
"There can't be a better way to salute Black History Month than to read this collection. It gathers everything from the desperate letters of 19th century slaves—spouses who'd been sold, never to see each other again—to expressions of friendship between poets. . . . Drawn from two centuries, these letters are a lesson drawn from the heart of African-American history." —Anne Stephenson, Arizona Republic
 
"Letters from Black America . . . presents the pantheon of the African-American experience in a unique and intimate format, through the heartfelt correspondence of both the ordinary and extraordinary men and women who lived it." —Joy T. Bennett, Ebony
 
"This collection offers an intimate look at the joys and concerns in the lives of ordinary and famous black Americans." —Vanessa Bush, Booklist
 
"What makes this book powerful is not only the letters of famous people—Martin Luther King, Booker T. Washington, Alice Walker—but the missives of ordinary folks. Annie Davis, for example, wrote President Lincoln a year after the Emancipation Proclamation. 'It is my desire to go free . . . my mistress won't let me. You will please let me know if we are free and what I can do. I write to you for advice.'" —Billy Helton, New York Post
 
"Ah, the lure and lore of the letter! Nowadays we turn to cell phones, e-mail and instant messaging to connect, but when you crack open Pamela Newkirk's Letters from Black America you'll see that the pen is mightier than the thumb." —Mika Ono, Essence
 
"An instructive, moving—even delightful—primer on the myriad facets of African-American private and public life." —Publishers Weekly
 
"This long-overdue collection by writers from all walks of life is moving, illuminating, and difficult to put down."—Marian Wright Edelman, president, Children's Defense Fund
 
"When we think of great memorials and monuments, we often envision structures crafted out of steel or stone. But I believe the letters in Pamela Newkirk's tremendous collection represent perhaps the most powerful and enduring legacy to the strength, creativity, genius, and resilience of the African American community. Letters from Black America is itself a work of art." —Andrew Carroll, editor of Letters of a Nation and War Letters
 
"Seldom has the intimate life of a people been more variously revealed. Think of the day when there may only be downloaded e-mail, and then thank Pamela Newkirk for the enduring significance, poignancy, and delight of her Letters from Black America."
—David Levering Lewis, Julius Silver University Professor, New York University, and author of W.E.B. Du Bois
 
"From slavery to post-9/11, from Phillis Wheatley to Barack Obama, the book gathers correspondence from politicians, writers, and academics, as well as slaves, sharecroppers, servicemen, and domestic workers. . . . the most moving entries are the barely literate and astonishingly painful pleas for family, and for simple justice, by otherwise nameless individuals of the Jim Crow era. Here are people with no hope left other than the belief that death will bring the reunion in Heaven of husband and wife, mother and son. . . . Each section has a brief introduction by Newkirk, just enough to set the stage." —Robert Saunderson, School Library Journal
 
"A unique look at the inner thoughts of many of the most notable African Americans in history. The format enables a reader to pick up the book for just a minute or two to read a particular letter. But the entries can also hold one's interest for hours if an entire section or the whole book is read in one sitting." —The Journal of Blacks in Higher Education