The Protest Psychosis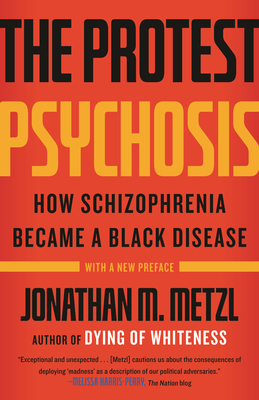 The Protest Psychosis
How Schizophrenia Became a Black Disease
Beacon Press (MA), Paperback, 9780807001271, 246pp.
Publication Date: April 12, 2011
* Individual store prices may vary.
Buy at Local Store
Enter your zip code below to purchase from an indie close to you.
or
Buy Here
Description
A powerful account of how cultural anxieties about race shaped American notions of mental illness

The civil rights era is largely remembered as a time of sit-ins, boycotts, and riots. But a very different civil rights history evolved at the Ionia State Hospital for the Criminally Insane in Ionia, Michigan. In The Protest Psychosis, psychiatrist and cultural critic Jonathan Metzl tells the shocking story of how schizophrenia became the diagnostic term overwhelmingly applied to African American protesters at Ionia--for political reasons as well as clinical ones. Expertly sifting through a vast array of cultural documents, Metzl shows how associations between schizophrenia and blackness emerged during the tumultuous decades of the 1960s and 1970s--and he provides a cautionary tale of how anxieties about race continue to impact doctor-patient interactions in our seemingly postracial America.
About the Author
Jonathan M. Metzl is associate professor of psychiatry and women's studies and director of the Culture, Health, and Medicine Program at the University of Michigan. A 2008 Guggenheim Fellowship recipient, Metzl has written extensively for medical, psychiatry, and popular publications. His books include Prozac on the Couch and Difference and Identity in Medicine. He lives in Ann Arbor, Michigan.
Praise For The Protest Psychosis…
"A terrific new book . . . exceptional and unexpected."—Melissa Harris-Lacewell, The Nation blog

"A fascinating, penetrating book by one of medicine's most exceptional young scholars."—Delese Wear, JAMA: The Journal of the American Medical Association
 
"A stunning and disturbing book . . . [A] compelling cultural history that exposes postwar psychiatry's racist character and its enduring legacy."—Robin D. G. Kelley, author of Thelonious Monk: The Life and Times of an American Original
 
"Part reportage, part analysis, part theory . . . Metzl challenges readers to peel back the layered complexities of race and medicine."—Felicia Pride, The Root
 
"[Metzl] make[s] a powerful case for the way schizophrenia was transformed into a racialized disease."—Christopher Lane, Psychology Today
 
"Metzl addresses a long-standing diagnostic tension in psychiatry with insight, clarity, and informative historical detail."—Health Affairs