God vs. Gay?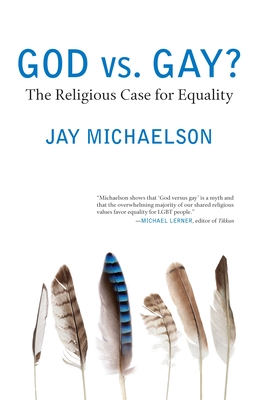 God vs. Gay?
The Religious Case for Equality
Beacon Press (MA), Paperback, 9780807001479, 212pp.
Publication Date: May 8, 2012
* Individual store prices may vary.
Buy Now
or
Shop Local
Enter your zip code below to purchase from an indie close to you.
Description
Does the Bible prohibit homosexuality? No, says Bible scholar and activist Jay Michaelson. But not only that: Michaelson also shows that the vast majority of our shared religious traditions support the full equality and dignity of LGBT people. In this accessible, passionate, and provocative book, Michaelson argues for equality, not despite religion but because of it.
About the Author
Jay Michaelson has taught Kabbalah, mindfulness, and embodied spiritual practice at Yale University, City College, Elat Chayyim, the Skirball Center, and the Wexner Summer Institute, among other institutions. Chief editor of Zeek: A Jewish Journal of Thought and Culture, he is a regular contributor to the Forward, the Jerusalem Post, Slate and other publications. He holds a JD from Yale and an MA in religious studies from the Hebrew University of Jerusalem, where he is currently a doctoral candidate.
Praise For God vs. Gay?…
"The first part's insistence that Judeo-Christian values require gay equality is so confidently and cogently asserted that it amounts to something new and invigorating in gay religious apologetics."—Booklist

"God vs. Gay is an excellent resource for those struggling to reconcile their sexual feelings — or those of a loved one — with being a person of devout religious faith. Michaelson never panders, attempts to set aside all biases and simply lets the text speak for itself. What happens when he clears the smoke of punditry and bigotry is a beautiful thing, and the discussion over equality and human diversity is elevated because of Michaelson's willingness to have faith in the words of the Torah — and in human dignity."—NewVoices.org

"Mixing memoir and academic analysis in this well-researched and concisely written treatise, Michaelson embarks on a mission to reconcile sexuality with Judeo-Christian religious traditions… Inclusive and modern theology that will give both Jewish and Christian readers a reason to celebrate sexual diversity."—Kirkus Reviews

"This title is very much worth reading and particularly useful for those interested in religion, civil rights, and social progress."—Library Journal 

"God vs. Gay is a game-changer and highly recommended in the debate…Michaelson has packed so much into his slim volume. A pleasurable and intelligent read, this is a book for our times and a book for the ages."—EDGE

"As a salvo in the case for equality, however, it shows how to reframe the debate and stop seeing a chasm between God and gay."—Publisher's Weekly

"Michaelson looks at the Hebrew and Christian Bible with keen intellect, wit, and often surprising insights. He roots his arguments not in dry exegesis but in hard-won self-acceptance and passionate concern for others. I highly recommended God vs. Gay? for anyone seeking to understand how being homosexual and religious are not antithetical."—Joe Perez, author of Soulfully Gay

"'The irony of God versus Gay is that actually Gay and God go together.  Opening to one leads to the other.'  So writes Jay Michaelson in the postscript to this beautiful, soulful book.  Michaelson charts a journey from rejection to full acceptance, from religious alienation to spiritual wholeness that will brings the reader closer to the Divine. It did for me and it will for anyone who has felt abandoned by their faith and rejected for who they are. This is a healing book that yearns to be read."—Sharon Groves, Director, Religion and Faith Program, Human Rights Campaign Foundation

"God vs. Gay? is a timely and important book in this religious and political moment. Michaelson's book prepares us, regardless of religious or sexual identity, to delve deeper into our souls, our traditions, and into the truth that religion is in fact a source of liberation."—Rabbi Sharon Kleinbaum, Senior Rabbi of Congregation Beit Simchat Torah, the largest gay and lesbian synagogue in the world
 
"Through careful discussions of Jewish and Christian teachings on homosexuality Michaelson masterfully reveals that both religions allow for the full embrace of LGBT persons. This religious-ethical work is illuminating and a must read for anyone who wants to understand the current debate over religion and homosexuality."—Rabbi David Ellenson, President Hebrew Union College-Jewish Institute of Religion

"Michaelson shows that 'God versus gay' is a myth and that the overwhelming majority of our shared religious values favor equality for LGBT people." —Michael Lerner, editor of Tikkun

"God vs. Gay? is essential reading for people of all faiths who want to be allies of our gay and lesbian brothers and sisters. This book articulates what many of us have felt in our hearts for a long time: that our religious conscience compels us to support equality, not oppose it."—Rabbi Zalman Schachter-Shalomi, co-author of Jewish with Feeling and From Age-ing to Sage-ing, Blessings for Health, Peace of Mind, and Prosperity