The Boys from Little Mexico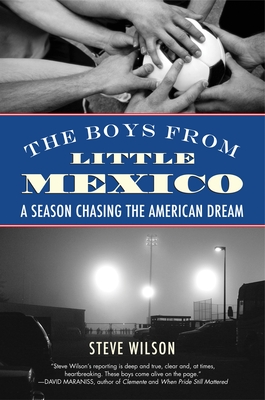 The Boys from Little Mexico
A Season Chasing the American Dream
Beacon Press (MA), Paperback, 9780807001523, 225pp.
Publication Date: October 18, 2011
* Individual store prices may vary.
Buy Now
or
Shop Local
Enter your zip code below to purchase from an indie close to you.
Description
For nineteen straight years, the all-Hispanic boys' soccer team from Oregon's Woodburn High has made the playoffs. As they prepare to make it twenty, one thing will become clear: Los Perros play the beautiful game with heart, pride, and their lives on the line. Their spirited drive gives a rare sense of hope and unity to a blue-collar farming community that has been transformed by waves of immigrants over recent decades, a town locals call "Little Mexico." Watched over by a south Texas transplant—a surrogate father to half the squad—this band of brothers must learn to come together on the field and look after each other off it.
 
More than just riveting sports writing, The Boys from Little Mexico is about the fight for the future of the next generation—and a hard, true look at boys dismissed as gang-bangers, told to "go home" by lily-white sideline crowds. The wins and losses they notch along the way spin a striking tale about what it takes to capture the American Dream.
 

About the Author
"Steve Wilson ," who was born in Lawton, Oklahoma, in the fabled Wichita Mountains, is a graduate of Central State University, Edmond, Oklahoma. From childhood he was entranced by his grandfather's stories about Frank James, Cole Younger, Al Jennings, Heck Thomas, Quanah Parker, and Geronimo, all of' whom the elder Wilson met when he was an early settler in Lawton Wilson became interested in writing this book, when he discovered that many of the tales had never been recorded. He is Director of the Institute of the Great Plains and editor of the Great Plains Journal whose headquarters are in the Museum of the Great Plains, Elmer Thomas Park, Lawton. He is the author of many articles on southwestern Americana.
Praise For The Boys from Little Mexico…
In The Boys from Little Mexico, Steve Wilson does more than chase the American Dream—he captures it on the move. Wilson provides us with a glimpse of the future of sports in America, one that promises to be as rich and compelling as the past.—Glenn Stout, author and Series Editor of The Best American Sports Writing

"I hate soccer … but I loved this book. Steve Wilson has written a story where culture, sport, and good writing collide."—Larry Colton, former pitcher for the Philadelphia Phillies and author of Counting Coup

"Just as Buzz Bissinger did in Friday Night Lights, Steve Wilson manages to achieve the unexpected: a book about sports that turns out to be about so much more. He wrests poetry out of these boys' lives, while aiming directly for that one destination where we all seek home—the heart."—Luis Alberto Urrea, author of Into the Beautiful North and The Devil's Highway

"With compassion and an unflinching eye, Steve Wilson offers us through sports a preview of a new America, one whose people may look different, but whose virtues of what we like to believe in ourselves remain triumphantly the same.—Howard Bryant, ESPN senior writer and author of The Last Hero

"A real-life account of the inequities surrounding immigration as lived by all concerned, this year in the life of the Woodburn Bulldogs offers no easy answers. The frustrations they face are saddening, but theirs is ultimately a hopeful tale. Very timely, with the World Cup in 2010!"—Dana Brigham, manager/co-owner, Brookline (Mass.) Booksmith

"The Boys from Little Mexico proves once again that the language of sports is universal. Steve Wilson takes a small corner of the world and shows how big it can be, especially when a caring coach partners with some talented players. This book is both heartbreaking and inspiring."—Madeleine Blais, author of In These Girls, Hope Is a Muscle

"The Boys from Little Mexico is an unvarnished and moving account of the dreams and despair of immigrant boys on a high school soccer team who struggle not only in their quest to win the state championship, but also in their desire to adapt as strangers in a new land. If you want to understand your new next-door neighbors, this is the book to read.—Sonia Nazario, author of Enrique's Journey

"On one level Steve Wilson has written a wonderful book about high school athletes in a community banded together by soccer glory. On another level, he's written a wonderful book about race, sociology, and the shifting borders within this country. The Boys from Little Mexico will tell you more about the next generation of Americans than census data and politicians ever could."—Bill Reynolds, author of Fall River Dreams and '78

"American soccer is far too often viewed as a country club sport. Steve Wilson spent five years earning the trust of Los Perros in order to put a human face on the young men of America's fastest-growing minority group. With empathy and respect, Wilson reveals their compelling stories."—Grant Wahl, senior writer for Sports Illustrated and author of The Beckham Experiment

"Steve Wilson's reporting is deep and true, clear and, at times, heartbreaking. These boys come alive on the page."—David Maraniss, author of Clemente and When Pride Still Mattered