Arms Wide Open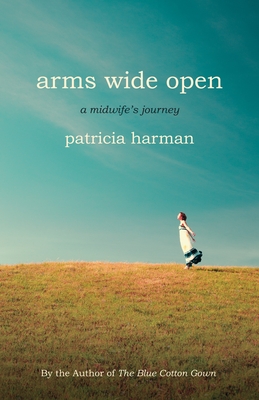 Arms Wide Open
A Midwife's Journey
Beacon Press (MA), Paperback, 9780807001714, 287pp.
Publication Date: March 20, 2012
* Individual store prices may vary.
Buy at Local Store
Enter your zip code below to purchase from an indie close to you.
or
Buy Here
Description
In this prequel to the highly praised "The Blue Cotton Gown, "Patricia Harman reaches back to her youthful experiments in living a fully sustainable and natural life in the 1960s and 70s in rural Minnesota and on a commune in Ohio, forming alliances with the eco-minded and antiwar counterculture. From those riveting days as a self-taught midwife, delivering babies in cabins and on farms, sometimes in harrowing circumstances, Patsy takes us into the present day, where she faces the challenges of running a women's health clinic with her husband, mothering adult sons, and holding true to her principles and passions in the twenty-first century.

About the Author
Patricia Harman, CNM, got her start as a lay midwife on rural communes and went on to become a nurse-midwife on the faculties of Ohio State University, Case Western Reserve University, and West Virginia University. She is the author of two acclaimed memoirs and the bestselling novel The Midwife of Hope River. She has three sons and lives near Morgantown, West Virginia.
Praise For Arms Wide Open…
Praise for Arms Wide Open

"There are more honest, revealing moments here than in many memoirs. Harman, whose prose is sparse but not simple, covers a span of decades, deftly revealing her own youthful struggles with identity through the children we witnessed her raising earlier in her book, revealing, in short, a full life." —Publishers Weekly

"The heart of Arms Wide Open is birthing, but its soul is sustainable living and a spirit of environmentally friendly management of resources. Harman's commitment to this theme permeates her book, and with similar focus on other contemporary issues, it is relevant for a vast array of readers."—Rain Taxi 

"This new memoir is a peek at midwife Patsy Harman's early hippie days, a world where idealism and compassion never cease to matter, where her commune mates struggle—sometimes successfully, sometimes not—against an unjust/unwinable war with a limitless sense of personal commitment and self-sacrifice. It's good to hear these stories, good to remember the fervor against the Vietnam War and our collective voices raised in protest. It's heartening to know that the indomitable Midwife Harman still carries on the legacy of those years with a message that is still vital and necessary all these years later."—Carol Leonard, Midwife and author of Lady's Hands, Lion's Heart, a Midwife's Saga
 
"Patricia Harman's unflinching honesty and soaring poetry unfold the dream and the reality of the rural communes, political activism, and urban counterculture in the 1970s, and what we, the veterans of that particular era of bohemian life, have become today. She weaves in the telling details—the songs we sang, the clothes we wore, the glories of nature we witnessed, and, most especially, the causes for which we organized and the austerities we endured willingly, for the sake of the earth and all her children."—Alicia Bay Laurel, author and illustrator of Living on the Earth
 
"A sparkling, vivid story of how a midwife is born—and survives. This story takes you places you never expect to go."—Tina Cassidy, author of Birth: The Surprising History of How We Are Born
 
Praise for The Blue Cotton Gown
 
"This luminescent, ruthlessly authentic, humane, and brilliantly written account of a midwife in rough-hewn Appalachia, a passionate healer plying her art and struggling to live a life of spirit, stands as a model for all of us, doctors and patients alike, of how to offer good care."—Samuel Shem, MD, author of The House of God, Mount Misery, and The Spirit of the Place
 
"Harman has a gift for storytelling, and The Blue Cotton Gown is a moving, percipient book."—Karen R. Long, Cleveland Plain Dealer
 
"As the mother of seven children and veteran of eight pregnancy losses, I knew when I ran my bath that I would be unable to resist Patricia Harman's memoir of midwifery, The Blue Cotton Gown. What I didn't realize was that it would cause me, a sensible person, to get into her bath with one sock still on and rise from it when the candle was gone and the water cold. Utterly true and lyrical as any novel, Harman's book should be a little classic."—Jacquelyn Mitchard, author of The Deep End of the Ocean and Cage of Stars
 
"Arms Wide Open is more than a book about delivering babies and bringing new life into the world; it's about the deterioration of the optimism once so prevalent in the cracks and crevices of this country. It's about the human spirit, and the desire to do good unto others. But most importantly, it's about Mother Earth, the time we spend here, the things we plant, the mark we leave and the power she has over all of us."—Hippocampus Magazine