American Plastic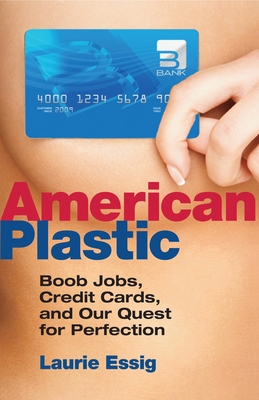 American Plastic
Boob Jobs, Credit Cards, and Our Quest for Perfection
Beacon Press (MA), Paperback, 9780807003237, 219pp.
Publication Date: November 8, 2011
* Individual store prices may vary.
Buy at Local Store
Enter your zip code below to purchase from an indie close to you.
or
Not Currently Available for Direct Purchase
Description
The story of how credit and cosmetic surgery have created a subprime mortgage crisis of the body.

In this provocative book, sociologist Laurie Essig traces the history of plastic surgery, tracks the effect of fashion and porn on our desire to "fix" ourselves, and explores our image- and youth-obsessed culture. In over two hundred interviews of plastic surgeons and surgery recipients, Essig creates an unforgettable portrait of contemporary America. American Plastic is a powerful and original commentary on the relationship between cosmetic surgery, credit, and culture.
About the Author
Laurie Essig has taught sociology at Columbia University and Trinity College in Connecticut. She is a columnist for New York Blade and Chicago??'s Outline.
Praise For American Plastic…
"American Plastic is an incisive analysis and critique of the rise of the cosmetic surgery industry. Challenging the underpinnings of contemporary Neoliberalism, which spawned an unregulated 'cosmetic industrial complex' that is fueled by rising economic inequality and socially irresponsible consumer lending, Essig illuminates the political, social, and economic costs of the uniquely American quest for 'perfection.'  Its narrative ying and yang of boob jobs and credit cards gives new meaning to 'plastic peril.'" —Robert D. Manning, author, Credit Card Nation, and Director, Institute for Consumer Financial Services

"American Plastic is a playful but deadly earnest reportage on plastic America – the fateful collisions of cosmetic surgery and credit (which pays for most of it), beauty and pornography (which now defines beauty), and technology and perfection (which technology affects to make possible). Capturing the many meanings of plastic and plasticity, Laurie Essig portrays a society which, on the way to trying to remake the female body, is unmaking its core reality in ways equally devastating to women and the economy. Women will read this book, men need to."—Benjamin R. Barber, author of Jihad vs. McWorld and Consumed, Distinguished Senior Fellow, DEMOS

"A fascinating, original, and engaging exploration of the connection between plastic surgery and our economic crisis. Laurie Essig illuminates the dark side of the promise of perfection and offers inspirational strategies for change."
—Jean Kilbourne, Ed.D., creator of the Killing Us Softly: Advertising's Image of Women film series and author of Can't Buy My Love: How Advertising Changes the Way We Think and Feel

"Laurie Essig provides a freewheeling, interdisciplinary commentary on the special connections between culture, economics and the cosmetic surgery industry. Through fieldwork with consumers as well as providers, she explores with humor and understanding the willingness of Americans to take on high interest loans to reshape their bodies. If you know nothing about the medical credit world, this is a revealing and provocative book." —Joan Jacobs Brumberg, author of The Body Project: An Intimate History of American Girls and Fasting Girls: The History of Anorexia Nervosa

"Since Dustin Hoffman heard that memorable 'just one word,'  plastic has re-made American society. In a stroke of brilliance, Laurie Essig brings together plastic credit cards, bodies, and gender identities by telling the story of how economic insecurity has intersected with the celebrity culture and the neo-liberal ideology of choice. Essig's well-researched and original analysis deserves our serious attention."—Juliet Schor, author of Plenitude: The New Economics of True Wealth

"Will likely be controversial, but Essig offers fascinating and troubling insights into the American psyche."— Kirkus Reviews

"Essig has a brisk, smart style and she approaches her subject with a welcome serving of wit"—Publisher's Weekly