Do Americans Shop Too Much?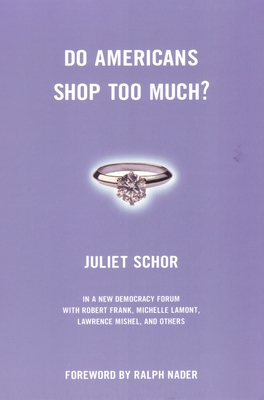 Do Americans Shop Too Much?
Beacon Press, Paperback, 9780807004432, 118pp.
Publication Date: April 24, 2000
* Individual store prices may vary.
Buy at Local Store
Enter your zip code below to purchase from an indie close to you.
or
Buy Here
Description
Juliet Schor breaks a taboo by exposing Americans' shopping habits to moral society. Schor disapproves of unfettered private consumption, not only because we already use up so much, but also because overspending to bolster a sense of self does not lead to happiness. Along with her critique, Schor suggests intriguing ideas for making 'status' goods accessible for all--for example, imposing high taxes on expensive items to subsidize lines of affordable 'luxury' goods. A firestorm of responses follow from economist Robert Frank and others.

The New Democracy Forum is a series of short paperback originals exploring creative solutions to our most urgent national concerns.

"A civic treasure. . . . A truly good idea, carried out with intelligence and panache." --Robert Pinsky
About the Author
Juliet Schor is a professor of sociology at Boston College. Her research focuses on issues of time use, consumption, and environmental sustainability. She received her PhD in economics at the University of Massachusetts. Before joining Boston College, she taught at Harvard University for 17 years in the Department of Economics and the Committee on Degrees in Women's Studies. Her most recent books are Sustainable Lifestyles and the Quest for Plenitude: Case Studies of the New Economy and Plenitude: The New Economics of True Wealth. Previous books include the national best seller The Overworked American: The Unexpected Decline of Leisure and The Overspent American: Why We Want What We Don't Need.



Joel Rogers, a MacArthur Foundation "genius" prize-winner and identified by Newsweek as one of the 100 living Americans most likely to shape U.S. politics and culture in the twenty-first century, is professor of law, political science, public affairs, and sociology at the University of Wisconsin Madison. The common thread in his academic work is democracy: how to define and measure it, what makes it work, how to make it work better. Rogers spends a lot of time outside the university advising people in politics, government, business, and social movements. He runs the Center on Wisconsin Strategy, which promotes high road (i.e., equitable, sustainable, democratic) economic development and governance, and has produced a stream of influential innovations in worker training; business and labor strategy; and local, state, and national policy.
Praise For Do Americans Shop Too Much?…
Do Americans shop too much? Yes, but there's one more thing they should buy-this book, which offers lucid new perspectives on what drives us to the mall.--Barbara Ehrenreich

"Juliet Schor manages to insert a new question into our politics, and not a moment too soon. May the reactions to her ideas be the beginning of a robust public discussion, not merely an academic discourse. These issues will leap off the page at every reader who has ever wondered about why on earth he's living the way he is."--Bill McKibben

"I read everything that is written by Juliet Schor. The reasons are clear and compelling. She is a fine writer, always has something new and important to say, and always I am persuaded and grateful. So with this excellent piece of work."--John Kenneth Galbraith