The Hardest Questions Aren't on the Test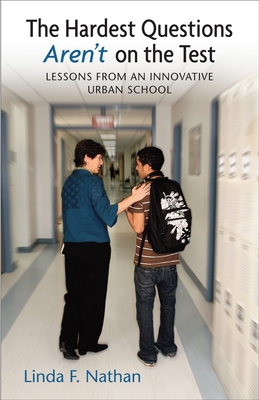 The Hardest Questions Aren't on the Test
Lessons from an Innovative Urban School
Beacon Press (MA), Paperback, 9780807006153, 224pp.
Publication Date: September 7, 2010
* Individual store prices may vary.
Not Currently Available for Direct Purchase
or
Shop Local
Enter your zip code below to purchase from an indie close to you.
Description
The Boston Arts Academy comprises an ethnically and socioeconomically diverse student body, yet 94 percent of its graduates are accepted to college. Compare this with the average urban district rate of 50 percent. How do they do it? This remarkable success, writes Principal Linda Nathan, is in large part due to asking the right questions-questions all schools can consider, such as:

* How and why does a school develop a shared vision of what it stands for? 
* What makes a great teacher, and how can a principal help good teachers improve?
* Why must schools talk openly about race and achievement, and what happens when they do?

With engaging honesty, Nathan gives readers a ring-side seat as faculty, parents, and the students themselves grapple with these questions, attempt to implement solutions, and evaluate the outcomes. Stories that are inspirational as well as heartbreaking reveal the missteps and failures-as well as the successes. 

Nathan doesn't claim to have all the answers, but seeks to share her insights on schools that matter, teachers who inspire, and students who achieve.
About the Author
Working to reduce anticipated fears in kids, Josh Nathan, MA, wrote this book by tapping into theories related to interpersonal deception, nonverbal communication, and anticipated emotion. Graduating Magna Cum Laude with a B.S. in Journalism from Northwestern University, he nabbed a Colorado Broadcaster's Association Award in 2001 for his weather program featuring children who each presented a portion of an on-air forecast. One of 72 hand picked employees to begin a new CBS station in southern California, Josh still holds his National Weather Association Broadcaster's Seal of Approval. After earning his M.A. in Communication, Josh left broadcasting to teach at The Art Institute of Colorado. He has written journal papers, magazine articles, and a textbook. A fervent public speaker, he most recently shared his expertise in New York at the first U.S. Conference for the Centre for Media and Celebrity Studies. His hobbies include writing and travel, where he often finds his most valuable ideas in what he considers to be the most active form of learning. He is fluent in English and Spanish. Linda Nathan, MA CCC-SLP, always knew she wanted to become a Speech-Language Pathologist, earning her M.A. in the subject from the University of Colorado at Boulder. While working at Spaulding Rehabilitation, she earned her Certificate of Clinical Competence in Speech Pathology (CCC-SLP). Beginning her work in the Denver Public Schools, she took a brief break with the birth of her two children only to return to more than 20 years in the Cherry Creek School District. Linda retired in 2012, but still sees children in her private practice. Earlier this year, her thoughts about how to mitigate elementary school standardized test anxiety were picked up and published by the National Education Association. Often seen perusing books for her grandson, she always looks for those with a message. In "Too Mad to Trust," she teamed up with her son, Josh, to help get that message out. She combed through the manuscript, ensuring its prose almost create a linguistic exercise. Her hobbies include travel and cooking. She and her husband, Andy, recently celebrated more than 45 years together.
Praise For The Hardest Questions Aren't on the Test…
"For educators or anyone interested in city schools, this is essential, provocative reading."
—Chuck Leddy, Boston Globe

"This fascinating book takes you inside the mind of a uniquely gifted urban school leader and reveals the secrets that help her propel her disadvantaged students toward college: community, transparency, a profound understanding of adolescents, and, especially, moral courage. Reading The Hardest Questions . . . is like shadowing a principal for a year. I recommend it to every teacher or administrator who wants to make a difference in the lives of inner-city children."
—Michael Thompson, author of Raising Cain: Protecting the Emotional Life of Boys

"Using rich and vivid examples, presented with passion and candor, Linda Nathan shows what it really means to go 'back to basics' in American urban education."
—Howard Gardner, author of Multiple Intelligences
 
"Linda Nathan and her remarkable colleagues . . . provide argument and evidence, theory and action plan, utopian hope and practical road map to the necessary project of reinventing America's schools."
—William Ayers, author of To Teach and A Kind and Just Parent
 
"Linda Nathan's wonderful account of piloting the Boston Arts Academy is personal, anecdotal, and yet focused on the critical Big Questions. Through stories of how these questions play out in hallways and classrooms, Nathan articulates a vision of how urban schools can flourish.""
—Deborah Meier, author of The Power of Their Ideas