Not Keeping Up with Our Parents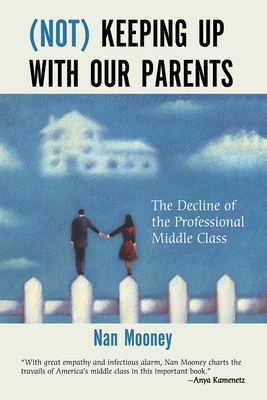 Not Keeping Up with Our Parents
The Decline of the Professional Middle Class
Beacon Press (MA), Paperback, 9780807011393, 254pp.
Publication Date: May 2009
* Individual store prices may vary.
Not Currently Available for Direct Purchase
or
Shop Local
Enter your zip code below to purchase from an indie close to you.
Description
Drawing on more than a hundred interviews with people all across America, (Not) Keeping Up with Our Parents explores how stagnant wages, debt, and escalating costs for tuition, health care, and home ownership are jeopardizing the finances and futures of today's educated middle class. Despite this sobering reality, Nan Mooney offers concrete ideas on how we can arrest this downward spiral.
About the Author
Nan Mooney grew up in Seattle and graduated from Scripps College in California. Her work has appeared in, among others, "The Washington Post", "Women s eNews, Slate.com", "Seattle Weekly" and "The Blood-Horse". She is the author of "My Racing Heart: The Passionate World of Thoroughbreds and the Track". She lives in New York City.
Praise For Not Keeping Up with Our Parents…
Think it can't happen to you? Read Mooney's book . . . . then think again . . . An alarming and important book, which should bring readers out of ignorance, embarrassment or bewilderment and into harsh enlightenment.-—Barbara Lloyd McMichael, Seattle Times

"An excellent analysis of the problems facing the large and important professional middle class."—Booklist

"With great empathy and infectious alarm, Nan Mooney charts the travails of America's middle class in this important book."—Anya Kamenetz, author of Generation Debt

"If you're wondering why, in our age of plenty, the financial treadmill keeps moving faster and faster for America's increasingly educated-and increasingly insecure-middle class, you owe it to yourself to read this book. It's all here: the big trends, the compelling portraits, the ideas for personal and political change, and the call to arms we so desperately need." —Jacob S. Hacker, author of The Great Risk Shift

"We hear a lot about the runaway wealth of American professionals. In this important book, Nan Mooney reminds us that most have no such luck. Working in jobs they love provides a sense of moral worth but doesn't cover the bills for teachers, legal aid lawyers, practicing artists, and others. Something has gone wrong in America, and this book gives us a grip on the crisis." —Katherine Newman, coauthor of The Missing Class and the Forbes Class of 1941 Professor of Sociology and Public Affairs at Princeton