In Defense of Women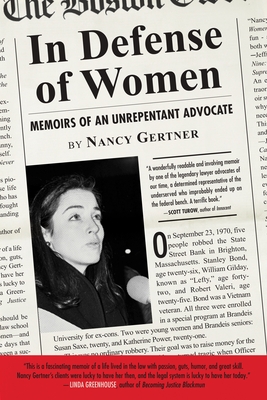 In Defense of Women
Memoirs of an Unrepentant Advocate
Beacon Press (MA), Paperback, 9780807011485, 249pp.
Publication Date: April 17, 2012
* Individual store prices may vary.
Not Currently Available for Direct Purchase
or
Shop Local
Enter your zip code below to purchase from an indie close to you.
Description
Nancy Gertner launched her legal career by defending antiwar activist Susan Saxe, who was on trial for her role in a robbery that resulted in the murder of a police officer. After this high-profile, highly charged case, Gertner continued to cause a stir in case after riveting case. She threw herself into criminal and civil cases focused on women's rights and civil liberties, establishing herself as a talented and unrepentant advocate for women. Now she looks back on that storied career of groundbreaking firsts and tells of her struggle to succeed personally and professionally while working on benchmark cases.

Praise For In Defense of Women…
"…[A] must read for any feminist attorneys. Readers will find Gertner's honesty, humor, and bravery refreshing."—Ms.JD

"At age 29, barely out of Yale Law School, Gertner takes on the defense of Susan Saxe. It is the beginning of a long career pushing the boundaries of law and society. With wit, heart, and honesty, Gertner . . . looks back on the decades just after feminism's Third Wave, when issues like abortion for poor women, shield laws for rape victims, 'battered wife syndrome,' and the rights of lesbians to adopt children were unconventional, to say the least."—Renee Loth, The Boston Globe

"In this season of television re-runs, devotees of Law and Order or The Good Wife would do well to turn off the tube, and sit down with Gertner's book. They might pull an all-nighter."—Senior Women

"Nancy Gertner's In Defense of Women is fascinating, fearless and fun - an exemplary life told with both wisdom and warmth."—Jeffrey Toobin, Author of The Nine: Inside the Secret World of the Supreme Court

"This is a wonderfully readable and involving memoir by one of the legendary lawyer advocates of our time, a determined representative of the underserved who improbably ended up on the federal bench. A terrific book."—Scott Turow, author of Innocent
 
"This is a fascinating memoir of a life lived in the law with passion, guts, humor, and great skill. Nancy Gertner's clients were lucky to have her then, and the legal system is lucky to have her today."—Linda Greenhouse, author of Before Roe v. Wade
 
"An extraordinary story by an extraordinary judge! Gertner's memoir succeeds brilliantly in explaining why women's voices are urgently needed in the law and on the bench. This book is as irreverent, funny, and dramatic as the justice herself."—Joyce Antler, author of You Never Call! You Never Write!
 
"Nancy Gertner is a courageous pioneer and brilliant jurist whose life lessons will interest anyone who has ever stood in a courtroom, fought for a cause, or juggled a demanding career and loving family."—Rosabeth Moss Kanter, author of SuperCorp
 
"Nancy Gertner's book should be required reading at every law school in the country where women—and men—are learning these days that they have to choose between a successful legal career and their deepest convictions about justice. She is living proof that you don't have to sacrifice one for the other. You can have it all. Indeed, she has done it all."  —Ellen Goodman, author of Paper Trail

"This is a fascinating memoir of a life lived in the law with passion, guts, humor, and great skill. Nancy Gertner's clients were lucky to have her then, and the legal system is lucky to have her today."—Linda Greenhouse, author of Becoming Justice Blackmuna (and Pulitzer Prize winning reporter who covered the United States Supreme Court for nearly three decades for The New York Times.)
 
"Gertner adeptly describes insider courtroom strategy as well as both the blatant and insidious institutional sexism she faced. Her story is a well-told reflection of the growth and growing pains of the legal system regarding women as advocates, educators, plaintiffs, and defendants.—Publisher's Weekly

"A riveting legal memoir by a superstar lawyer, a compassionate judge and a page turning writer. In Defense of Women is a rare treat:  an insider with an outsider's perspective speaking truth about power."─Alan M. Dershowitz, author of Supreme Injustice

"[A] thoroughly engaging, outspoken memoir…She writes this memoir to preserve her pre-judge identity as an advocate, as well as to remind the next generation of women, particularly those rejecting feminism, of the choices she and her contemporaries fought hard to maintain."─Kirkus Reviews