Overdiagnosed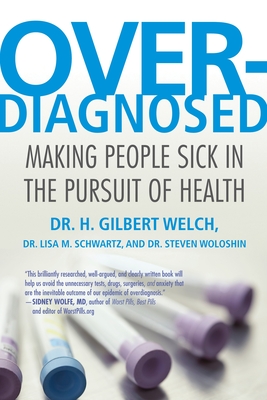 Overdiagnosed
Making People Sick in the Pursuit of Health
Beacon Press (MA), Paperback, 9780807021996, 248pp.
Publication Date: January 3, 2012
* Individual store prices may vary.
Buy Now
or
Shop Local
Enter your zip code below to purchase from an indie close to you.
Description
A complex web of factors has created the phenomenon of overdiagnosis: the popular media promotes fear of disease and perpetuates the myth that early, aggressive treatment is always best; in an attempt to avoid lawsuits, doctors have begun to leave no test undone, no abnormality overlooked; and profits are being made from screenings, medical procedures, and pharmaceuticals. Revealing the social, medical, and economic ramifications of a health-care system that overdiagnoses and overtreats patients, Dr. H. Gilbert Welch makes a reasoned call for change that would save us pain, worry, and money.

About the Author
H. GILBERT WELCH, M.D. is a professor at Dartmouth Medical School and a nationally recognized expert on the effects of medical testing. He has been published in the "Los Angeles Times, New York Times, Washington Post, " and "Wall Street Journal", and has appeared on "Today". In 2009, he received the Under Secretary s Award for Outstanding Achievement in Health Services Research.

Steven Woloshin, MD, MS, Lisa Schwartz, MD, MS, and H. Gilbert Welch, MD, MPH, are general internists, faculty members at Dartmouth Medical School, and researchers in the VA Outcomes Group, Department of Veterans Affairs, White River Junction, Vermont. Woloshin and Schwartz have written many articles together for leading medical journals, and Welch is the author of "Should I Be Tested for Cancer? Maybe Not and Here's Why "(UC Press).

DRS. LISA SCHWARTZis anassociate professors at Dartmouth.
Praise For Overdiagnosed…
"Very insightful and engaging."—Dennis Rosen, The Boston Globe

"One of the most important books about health care  in the last several years."—Cato Institute 

"One of the big strengths of this relatively small book is that if you are inclined to ponder medicine's larger questions, you get to tour them all. What is health, really?... In the finite endeavor that is life, when is it permissible to stop preventing things? And if the big questions just make you itchy, you can concentrate on the numbers instead: The authors explain most of the important statistical concepts behind evidence-based medicine in about as friendly a way as you are likely to find."—Abigail Zuger, MD, The New York Times

"Overdiagnosed —albeit controversial—is a provocative, intellectually stimulating work. As such, all who are involved in health care, including physicians, allied health professionals, and all current or future patients, will be well served by reading and giving serious thought to the material presented."─ JAMA

"Everyone should read this book before going to the doctor! Welcome evidence that more testing and treatment is not always better."─ Susan Love, MD, author of Dr. Susan Love's Breast Book
 
"This book makes a compelling case against excessive medical screening and diagnostic testing in asymptomatic people. Its important but underappreciated message is delivered in a highly readable style. I recommend it enthusiastically for everyone."─ Arnold S. Relman, MD, editor-in-chief emeritus, New England Journal of Medicine, and author of A Second Opinion: Rescuing America's Health Care
 
"This stunning book will help you and your loved ones avoid the hazards of too much health care. Within just a few pages, you'll be recommending it to family and friends, and, hopefully, your local physician. If every medical student read Overdiagnosed, there is little doubt that a safer, healthier world would be the result."─ Ray Moynihan, conjoint lecturer at the University of Newcastle, visiting editor of the British Medical Journal, and author of Selling Sickness
 
"An 'overdiagnosis' is a label no one wants: it is worrisome, it augurs 'overtreatment,' and it has no potential for personal benefit. This elegant book forewarns you. It also teaches you how and why to ask, 'Do I really need to know this?' before agreeing to any diagnostic or screening test. A close read is good for your health."─ Nortin M. Hadler, MD, professor of medicine and microbiology/immunology at University of North Carolina at Chapel Hill and author of Worried Sick and The Last Well Person
 
"We've all been made to believe that it is always in people's best interest to try to detect health problems as early as possible. Dr. Welch explains, with gripping examples and ample evidence, how those who have been overdiagnosed cannot benefit from treatment; they can only be harmed. I hope this book will trigger a paradigm shift in the medical establishment's thinking." —Sidney Wolfe, MD, author of Worst Pills, Best Pills and editor of WorstPills.org