The Cure for Everything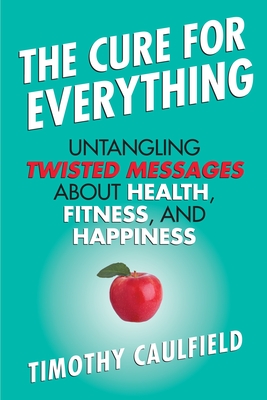 The Cure for Everything
Untangling Twisted Messages about Health, Fitness, and Happiness
Beacon Press (MA), Paperback, 9780807022078, 234pp.
Publication Date: April 9, 2013
* Individual store prices may vary.
Buy Now
or
Shop Local
Enter your zip code below to purchase from an indie close to you.
Description
A bold look at how commercial agendas distort the real science behind health and fitness studies and misinform the public about how to live a healthy life.
 
Researcher Timothy Caulfield talks with experts in medicine, pharmaceuticals, health and fitness, and even tries out many of the health fads himself, in order to test their scientific validity, dispel the myths, and illuminate the path to better health.

  
Praise For The Cure for Everything…
"A Freakonomics for the health industry."—Justin Sorbara-Hosker, Indigo Lifestyle blog

"[Caulfield] thinks with an academic's rigor and precision and knows the health maintenance territory inside out. Mr. Caulfield is at his breezy best in discussions of exercise and diet, both of which he approaches with a certain swagger… Mr. Caulfield muses at amusing and instructive length on the exact definition of fitness — the bizarre, science-free equivalency the modern aesthetic has established between fitness and sexy abs — and the depressingly well-validated fact that the older you get, the more running it takes to stay in exactly the same place."
—Abigail Zuger, MD., The New York Times 
 
 "Caulfield's cure for the mess we're in is this lucid and well-researched compendium of the best-available science about diet, fitness, genetics, pharmaceuticals and alternative medicine. . . . A compelling and timely argument for science and a reminder that science is an iterative process, breakthroughs are rare, and there are no magical cures for everything."
—Julia Belluz, National Post
 
"Timothy Caulfield is a science nerd. He's also a health nut. And he's fed up with all the bogus diet claims, expensive fitness programs and weird information that poses as scientific fact. . . . [He] spent a year combing through research and interviewing top scientists. He also exercised like a maniac and ate an ultra-healthy diet. His search for the truth resulted in . . . The Cure for Everything!"
—Nancy J. White, The Toronto Star
 
"[An] entertaining and thought-provoking slam."—Publisher's Weekly

"[The] Cure for Everything is insightful and entertaining…Gently and with humour, Caulfield guides readers through the funhouse world of health sciences."—National Post (Canada)