The Man with the Beautiful Voice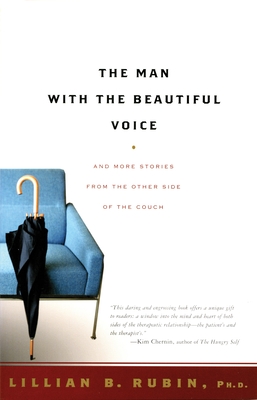 The Man with the Beautiful Voice
And More Stories from the Other Side of the Couch
Beacon Press (MA), Paperback, 9780807029275, 176pp.
Publication Date: June 15, 2004
* Individual store prices may vary.
Buy Now
or
Shop Local
Enter your zip code below to purchase from an indie close to you.
Description
In her long career as a psychotherapist, acclaimed author Lillian Rubin occasionally encountered patients who demanded a very special, even unorthodox, therapeutic approach. For the first time, Dr. Rubin tells the stories of her most fascinating, most challenging cases from the other side of the couch, focusing not just on the patient, but on her own inner process as she confronts the issues each case raises.
About the Author
Rubin is a psychotherapist as well as Senior Research Associate at the Institute for the Study of Social Change at the University of California at Berkeley.

JEFFREY RUBIN owns a human factors consulting firm specializing in the analysis, design, engineering, and testing of computer-based systems for usability. His clients include AT&T Bell Labs, IBM, and Hewlett-Packard. He was an early member of Bell Labs' Human Performance Technology Center where he developed testing methodologies. A well-known speaker in the field, he has presented for The Society of Technical Communication and the Human Factors Society.
Praise For The Man with the Beautiful Voice…
.

'Entertaining and revealing, The Man With the Beautiful Voice includes accounts of patients who taught Rubin something important about herself-among them her very first patient.' --Susan Salter Reynolds, Los Angeles Times

'This daring and engrossing book offers a unique gift to readers: a window into the mind and the heart of both sides of the therapeutic relationship-the patient's and the therapist's. Only a writer and thinker as agile as Lillian Rubin could offer such compelling stories that tell us so much about the process of pain and healing for both patient and therapist.'-Kim Chernin, author of The Hungry Self

'The seven case histories are riveting, Rubin's skills as a therapeutic sleuth are masterful, but the power of this remarkable book lies in the author's willingness to expose her radical self-doubt and her loving, caring heart.' --Letty Cottin Pogrebin, author of Three Daughters, Getting Over Getting Older, and Deborah, Golda, and Me

"Because she is a fine writer able to convey her own strong feelings and concern for her patients, Lillian Rubin has succeeded in making each of these clinical cases into a fascinating, well-paced, climactic story. A wonderful read." --Alix Kates Shulman, author of Memoirs of an Ex-Prom Queen

"It's not a therapist's technique or theoretical approach that really heals the patient, Rubin tells us. It's that more mysterious, step-by-step journey through the emphatic chambers of the human heart. The author of some of our very best works on social class, gender and family, Rubin takes us with her on her own journeys from both sides of the couch." --Arlie Hochschild, author of The Commercialization of Intimate Life and The Time Bind